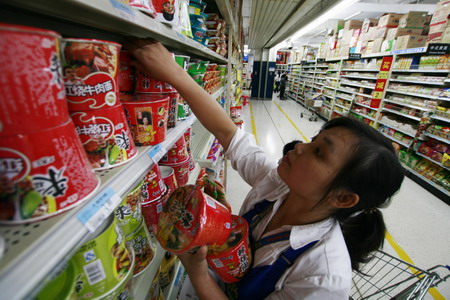 The increased price of Master Kong instant noodles made by Ting Hsin International Group has resulted in tensions between the popular instant noodle maker and supermarket giant Carrefour. [Photo / China Daily]

Supermarket in dispute with noodle maker over price hike
SHANGHAI - Ting Hsin International Group's negotiations with Carrefour over the price hike of its popular Master Kong brand of instant noodles stalled recently, with no signs of yielding from Carrefour.
Although the talks failed, the attempt is viewed as enviable among small-sized Chinese supermarket suppliers.
Industry insiders say the Ting Hsin-Carrefour bickering, which made headlines across the country, is an outbreak of long-standing tensions between foreign retail chains and domestic suppliers, which was triggered by surging inflation this year.
Ting Hsin International told the Hong Kong Stock Exchange in October that it was raising the retail price of each package of instant noodles from 2 yuan (30 cents) to 2.2 yuan due to an increase in raw material prices.
Two months after the announcement, the Taiwan-based food and beverage maker halted shipments of instant noodles to Carrefour stores in the mainland. A company official told First Financial Daily that the reason for the halt is that Carrefour wants to cut 0.1 yuan from the suggested 0.2 yuan price hike.
Carrefour has said it declined Ting Hsin's price hike request because it wants to "stabilize price levels" for the benefit of its customers. The French hypermarket operator later said both sides should work for a solution through "open and constructive" negotiations.
"Only large suppliers such as Ting Hsin can negotiate with the retailers. For small suppliers like us, it is always take it or leave it," said Yang Lei, general manager of a food and beverage distributor in Beijing.
An ACNielsen report in September showed that sales of Master Kong account for 44.5 percent of the instant noodle market, with sales of its high-end bowl noodles taking up 70 percent. The brand has held the top position in China's instant noodles market for more than 10 years, the report said.
"We have little bargaining power over the purchasing price of the big retail chains. Because they have extensive sales channels with high sales volume, suppliers can't afford to lose this business relationship," said Yang, whose company supplies to Carrefour and Wal-Mart. "To be a stable supplier to the supermarkets, you have more things to settle for than low prices."
Related readings:


 China's inflation highest in over two years


 China encourages supermarkets to buy food from producers


 China encourages supermarkets to buy food from producers


 Local measures help stabilize prices
Food to stay costly
Large supermarkets usually charge suppliers for product listing, marketing and management, promotional discounts, holiday decorations and retrospective rebates in return for increased volume, he said.
"Different supermarket chains charge different fees and they always have reasons to let the suppliers pay for them," said a beverage distributor in Shanghai who refused to be named. "At the end of year, you will find that although you have sold a lot, it is the supermarkets that are taking the bigger share of the profit."
The government has taken various measures in the past years to try to regulate the retail chains' treatment of suppliers.
In 2006, the Ministry of Commerce cooperated with four other ministries to issue measures for fair transactions between retailers and suppliers. It stated that retailers should abolish product entrance fees and lower other kinds of charges.
The State Administration for Industry and Commerce issued a similar rule in 2008.
"If the suppliers have chosen to put up with the supermarkets sharing their profits and arbitrary charges, along with surging inflation pushing up costs and cutting into profits, I think many of them will stand up and renegotiate terms with the big supermarkets," said Tian Huilan, a retail analyst with First Capital.
The Ting Hsin-Carrefour negotiations comes after the world's second biggest food and confectionery maker Kraft Foods Inc halted shipments of its Oreo line of products to Chinese retailer Lianhua Supermarket Holdings Co Ltd after talks broke down over profit sharing.
"Pushing the suppliers too far is dangerous for supermarkets. If the suppliers think that working with supermarkets is not profitable, they can seek alternative sales channels such as the Internet," said Tian.