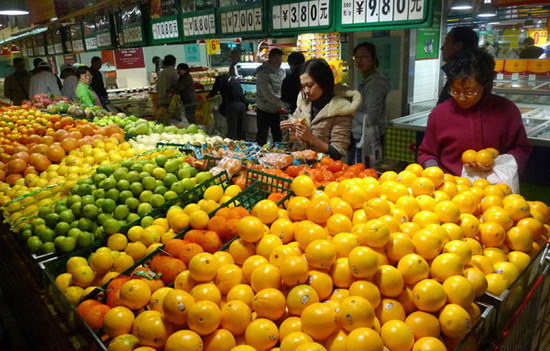 Customers choose fruits at a supermarket in Shanghai, on Saturday Dec 11, 2010. [Photo/Xinhua] 
BEIJING - China's consumer price index of November rose by 5.1 percent year on year, the fastest clip in 28 months, giving rise to greater concern over tightening measures from both consumers and analysts.
Related readings:


 Inflation to ebb: December CPI likely below 5%: NDRC


 Rein in the liquidity: China raises banks' reserve ratios again


 Negative interest rate: Inflation expectation presses for rate hike
The main gauge of inflation climbed by 0.7 percentage point from October's 4.4 percent, driven by an 11.7 percent surge in food prices, which accounted for a third of the CPI basket. A 5.8 percent hike in residential prices also fueled inflation, said the National Bureau of Statistics (NBS) on Saturday.
From January to November, China's CPI rose 3.2 percent year on year, surpassing the government's targeted ceiling of 3 percent for 2010.
Sheng Laiyun, spokesman of the NBS, said the food price surge contributed 74 percent to November's CPI, and the housing price hike contributed 18 percent.
Fruit prices topped the list of food prices by increasing 28.1 percent year on year, followed by a 17.6 percent increase in the price of eggs, 14.7 percent of grain and 14.3 percent in edible oil.
"That indicated seasonal factor is quite attributable to the fast CPI increase, as the demand of these goods usually surges in winter," said Sheng.
The new figures showed that price hikes in non-vegetable food and non-food goods affected the index this time, unlike the CPI increase driven by fast-rising fresh vegetable prices in previous months.
"However, prices will stabilize in December and the following months as the government's measures on curbing inflation take effect gradually," said Sheng.
The producer price index (PPI), a measure of factory-gate prices, rose 6.1 percent year on year in November, from a 5.0 percent increase in October.
Wang Tao, head of China economic research at UBS Securities, said the CPI of December this year will show decline because of a higher basis last year, but in the first half of 2011, the CPI year-on-year increase may stay around 4.5 percent, because the grain price hike has a longer gestation period and the increase in prices of non-food goods is expected to continue.
She also predicted the government would lift interest rates one more time this month.
To check inflation and absorb excessive liquidity, the central bank on Friday raised the proportion of money that lenders must keep on reserve by 50 basis points for the third time within a month, after announcing the first interest rates hike in nearly three years in October.
The move came after the central bank announced new loans in November reached 564 billion yuan ($84.7 billion).
In the first 11 months, the number of new loans totaled 7.45 trillion yuan, leaving a minimal margin for the government's 7.5-trillion-yuan full-year target.
The State Council, China's Cabinet, also vowed to cool prices by ordering local governments to take steps to rein in surging food prices on Nov 20.
But Dong Xian'an, chief economist with Industrial Securities, said there is still no evidence showing inflation has been kept at bay.
He suggested the government may have to raise interest rates by as much as 75 basis points to curb inflation.
China Daily