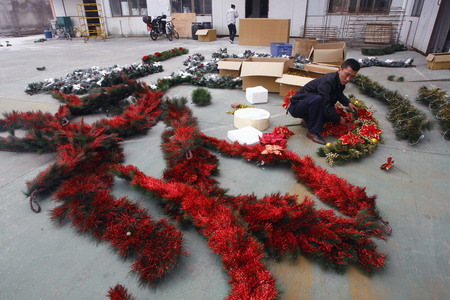 A worker arranges tinsel and other yuletide products at the Youlide Arts and Crafts factory in Yiwu, Zhejiang province, on Nov 18. Almost 60 percent of the world's Christmas products come from China, however many manufactures are considering pulling out of the business because of shortages in labor and increases in the costs of raw materials, like non-woven fabrics. [Photo /Provided to China Daily] 
Problems with labor and materials are pushing Chinese producers of festive goods to the brink. Gao Qihui reports from Shantou.
Christmas is "the most wonderful time of the year", sings crooner Andy Williams in his 1963 hit. Many Chinese manufacturers used to agree - not any more.

After a year of coping with labor shortages, price hikes for raw materials and an appreciation of the renminbi, many companies that make yuletide products are now considering pulling out of the industry.
Almost 60 percent of the world's Christmas products come from China. Yet, while toymakers record healthy profits, factories producing decorations and ornaments say they are struggling.
"If the situation does not improve, we'll definitely want to quit (production)," said Cai Qichang, owner of an arts and crafts company in Shantou, Guangdong province. "The sun is setting on the Christmas product industry (in China) right now."
Exports of festive products from the province actually hit $770 million between January and October 2010, a 3.9-percent year-on-year rise, according to official data.
However, the increase has failed to ensure a merry Christmas for producers.
Related readings:


 Festival helps light up businessman's profits


 Tourists enjoy US Christmas


 Rising costs prompt firms to revamp


 Exports encounter major hurdles
Roughly 48 percent of all Christmas products exported by China in the first 10 months of this year were made in Guangdong.
"Orders for our hand-crafted Christmas ornaments, dolls and other works did increase slightly this year," said Huang Shaokuang, sales manager at Jiaying Arts and Crafts in Shantou's northern Chenghai district, which is home to more than 3,000 producers.
Yet, despite generating almost 8 million yuan ($1.2 million) in sales, as of October, the company had made no profit.
"Still, we have fulfilled our social duty of feeding our workforce of more than 80 people," said Huang, forcing a smile.
Factories across Chenghai have reported similar experiences, with "many actually running at a loss", added Cai, who is also chairman of the Chenghai Arts and Crafts Association, which is made up of more than 100 small and medium-sized enterprises.