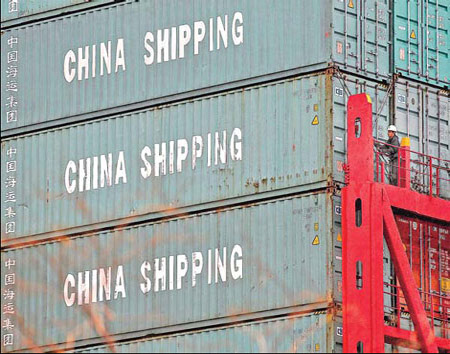 A man prepares China Shipping containers to be unloaded from a ship in Los Angeles.[Agencies/China Daily] 
Yuan appreciation and growing protectionism taking their toll
GUANGZHOU - China's exports will face major challenges created by the ongoing yuan appreciation and slow global economic recovery, trade officials have said.
"We don't have high expectations for the value of the contracts that will be signed at the China Import and Export Fair," the event's organizing committee spokesman Liu Jianjun said.
The 108th session of the fair, a key barometer of China's foreign trade situation, will open on Friday in Guangdong province's capital Guangzhou.
Nearly 23,600 domestic and overseas companies will participate in the fair - 240 more than in the previous session.
But fewer buyers from China's major trade partners, including the United States and European Union, have applied to attend. However, the number of purchasers from emerging markets, such as Africa and South America, has sharply increased.
"The major purchasing countries are cautious about choosing to join the fair because their domestic market outlooks are still blurry," Liu said.
Deputy Director-General of the Ministry of Commerce's Foreign Trade Department Su Jing said yuan appreciation and growing trade protectionism against China will deal a hard blow to the country's already fragile exports.
"The yuan will only fluctuate according to the market and economic conditions, and won't be subject to outside political pressure," Su said.
Chinese exports' thin profit margins will be "easily eroded" by any sudden exchange rate fluctuations.
China is among the countries most affected by trade protectionism, which has undergone a resurgence after the global financial crisis, as countries limit imports to help their industries.
Products involved in trade frictions between China and its major trade partners have evolved from labor-intensive goods to value-added products and even services.
"China has always acted in line with the WTO rules after its entry in 2001," said Su.
Related readings:


 2010, a year of recovery for China's foreign trade


 China's machinery, electronic exports rank 1st worldwide


 China should increase high tech exports


 'No ban' on exports of rare earths to Japan
"Some Western countries are filing trade cases against China just to satisfy their voters and achieve other political goals."
China's export growth has been decelerating since June, China Customs figures show. Last month, it increased by 24.7 percent year-on-year, compared with 35.5 percent in August.
Economists have predicted China's export growth will slow down faster than import growth.
The third phase of this year's fair features a new import exhibition session to boost imports and narrow China's trade surplus.
Some 501 companies and sellers from 43 countries and regions have confirmed their participation in the import session, the organizing committee said.
"Companies from Europe and the US are more interested in displaying and selling their products to their Chinese counterparts than in buying from the fair," Liu said.
In the spring session, only five companies from five European countries were present in the import exhibition zone. But 32 companies from Europe and the US will attend the autumn session.
Gao Changxin contributed to this story.