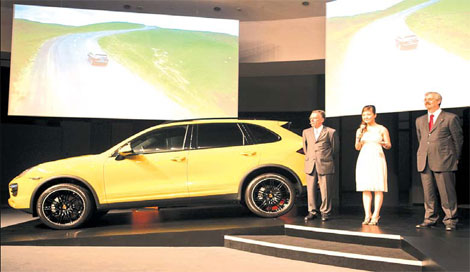 The new Cayenne range was unveiled during the Shanghai Expo. [Provided to China Daily]


Latest in Cayenne lineup delivers more space, performance and luxury
Shanghai - Porsche chose this grand metropolis - currently in the spotlight for its World Expo 2010 - as the locale for the national launch of its alluring new Cayenne range.
Based around the new generation Cayenne motto "To the Point", more than 100 journalists were treated to three days of artistic and athletic performances - along with hard-core driving on the Shanghai International Circuit - beginning June 24.
Helmut Broeker, chief executive officer of Porsche (China) Motors Ltd, emphasized the importance of the Cayenne to Porsche in China, and its huge popularity since its launch in 2003.
"The new Cayenne is without doubt the best in its class - a most versatile sports car that combines outstanding off-road performance with classic Porsche luxury," Broeker said.
The event included a tribute to the inspiration behind the Cayenne, the Porsche 959, winner of the prestigious Paris-Dakar off-road rally in 1986.
Handling, hot laps and off-road driving were all part of the circuit, demonstrating the ability of the Cayenne to deliver outstanding off-road and on-road performance with unbeatable comfort and convenience.
Improved agility and speed were fully evident in the new Cayenne, enabled by its extensively redesigned lightweight chassis and best-in-class performance from new power plants.
A superior rate of acceleration and top speed was seen across the board along with even greater fuel efficiency and lower CO2 emissions.
Related readings:


 Porsche reports loss on merger


 Porsche to recall 87 vehicles in S Korea due to seatbelt problem


 End of the road for top Porsche bosses


 Porsche denies more bidders have stepped forward

In the Cayenne S, such top performance was delivered by a high-torque 4.8-liter V8 engine that delivers 23 percent lower fuel consumption - some 10.5 liters per 100 km - and CO2 emissions of just 245 g/km.
Despite the increased efficiency, engine output has increased to 400 hp, which enables a top speed of 258 km/h and an acceleration rate of 0-100 km/h in 5.9 seconds.
Pioneering lightweight design on key components, along with a wheelbase extended by 40 mm and active and extra-light all-wheel drive, the weight on the Cayenne S has been reduced by 180 kilos without compromising quality or safety.
The new design not only reduces fuel consumption and CO2 emissions, but also improves speed, spaciousness and handling over previous versions of this model. Innovative design features were also clearly expressed in the top-of-the-range Cayenne Turbo.
The most powerful new generation Cayenne uses a 4.8-liter V8 bi-turbo engine delivering a maximum output of 500 hp to offer an exceptional top speed of 278 km/h and the capacity to accelerate from a standing start to 100 km/h in a breathtaking 4.7 seconds.
While delivering impressive performance, it consumes 23 percent less fuel than the previous version of this model at just 11.5 liters per 100 km, and emits only 270 g/km of CO2.
The new and lighter body weighs just 2,355 kg despite being lengthened by 40 mm to provide a more spacious interior.
The Cayenne S and Turbo are not only the best in class, but also the most impressive of all Cayenne models produced by Porsche to date.