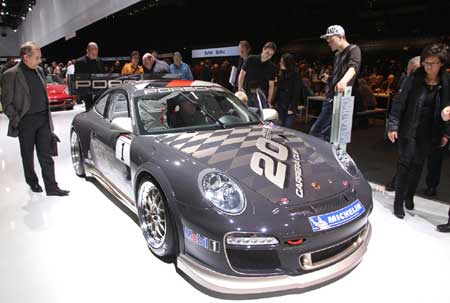 People look at a Porsche 911 GTE Cup automobile in Stuttgart, Germany. Hannelore Foerster / Bloomberg 
BERLIN - Porsche SE, maker of the 911 sports car, reported a nine-month loss on costs linked to its integration with Volkswagen AG.
The after-tax loss for the nine months through April 30 was about 700 million euros ($868 million), compared with a profit of 4.2 billion euros a year earlier, Stuttgart, Germany-based Porsche said. The company forecasts a full-year loss of less than 1 billion euros, an improvement from an earlier projection.
Porsche's results would be "significantly influenced by technical factors tied to the combination" with Volkswagen AG, said Frank Schwope, an analyst at NordLB in Hanover with a "hold" recommendation on Porsche stock, before the release. "The Panamera has been driving sales lately in a pretty tough market environment."
Porsche, which took a majority stake in Volkswagen AG more than a year ago, posted its first net loss since 1994 last year because of writedowns on the value of options on shares of Europe's biggest carmaker following a failed hostile takeover. Volkswagen then turned around and acquired a stake in Porsche's carmaking business. Porsche SE said on March 17 it expects a "low single-digit" billion-euro full-year loss.
The stock rose as much as 1.04 euros, or 3 percent, to 35.64 euros and traded at 35.40 euros as of 10:26 am in Frankfurt, valuing the carmaker at 6.2 billion euros.
Nine-month deliveries in the period were 53,605 cars and sport-utility vehicles, little changed from a year earlier, Porsche said.
Related readings:


 Porsche car model


 Porsche Panamera 4's world premiere


 Porsche 918 Spyder concept car's Asian premiere


 Porsche show girl at 2009 Auto Shanghai
The company plans to add models with a goal of doubling annual sales to as many as 150,000 vehicles over the medium term, benefiting from savings from its VW tie-up.
Porsche is planning a capital increase of about 5 billion euros in the first half of 2011, including 2.5 billion euros from the controlling Porsche and Piech families through the issuance of new common stock.
The manufacturer said net debt fell to 6 billion euros from 6.1 billion euros on Jan 31, 2010, after Volkswagen paid 3.9 billion euros for a 49.9 percent stake in Porsche AG as part of a merger due to be completed by 2011.
Bloomberg News