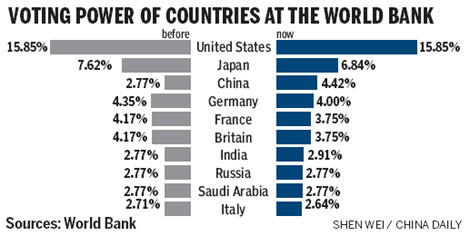 Nation now third in terms of voting power at multilateral organization
BEIJING - The World Bank has agreed to increase the voting power of China and other major developing countries in a move that analysts said marks the start of a gradual but new change in global economic governance.
China's stake at the bank, in terms of voting power, has gone up to 4.42 percent from 2.78 percent, lifting it to the third spot behind United States and Japan in the 186-nation lending organization.
The ranking is above a host of Western countries, like Germany, France and the UK, all having their voting power cut to a varied level.
The US' share, however, remained unchanged at 15.85 percent, effectively still giving it the veto power. Japan is in the second place with a 6.84 percent stake, down from 7.62 percent.
China's Minister of Finance Xie Xuren welcomed the move and said it increases the rationality of the World Bank governance structure and lays foundation for further reforms aimed at equalizing voting power between the developed and the developing nations.
"It is the first time in the history of the World Bank that a reform of governance structure is mainly targeted at promoting representation and voices of developing countries," he told reporters on Sunday.
"Today was a very good day for multilateralism," World Bank President Robert Zoellick said after the conclusion of the bi-annual meeting of the bank's development committee in Washington on Sunday.
"The belated move is a good start in the right direction," said Yang Fan, economist with the China University of Political Science and Law. "It is in line with China's rising economic power."
China's gross domestic product (GDP) expanded by an impressive 8.7 percent year-on-year in 2009, when it contributed to more than half of world economic growth while many developed economies registered negative growth thanks to the global financial crisis.
It is a signal that developed countries' dominance of world economic order is starting to weaken, said Yang Mian, researcher at Communication University of China. "China is rising."
Related readings:


 China's influence grows at World Bank


 World Bank president sees end to 'Third World'


 World Bank official says no case for revaluation


 World Bank says China should grow 9.5 pct in 2010
But analysts said given the de facto veto held by the US in the World Bank, there is a long way to go before the developing countries can have a voting power that matches their actual economic clout.
The World Bank and the International Monetary Fund require 85 percent of overall votes to make a decision. But the US failed to give up any share of its voting power. "There's no substantial change so far," said Yang Fan.
But as the developing countries, especially the BRICs (Brazil, Russia, India and China), grow, things will change, said Yang Mian.
China should at least be above Japan in terms of voting power in the World Bank given their changing economic status, said Yang Fan.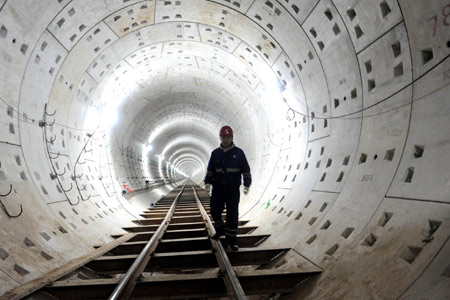 A subway tunnel under construction in Daxing district, Beijing. China is expected to surpass Japan to become the second largest world economy in terms of GDP this year. [China Daily]
The nation is expected to surpass Japan to become the second largest world economy in terms of GDP this year.