Bank's former VP found guilty of taking 12 m yuan in bribes
Beijing - Wang Yi, former vice-president of the China Development Bank (CDB), one of the country's three State-backed policy lenders, was sentenced to death with a two-year reprieve on Thursday for accepting nearly 12 million yuan ($1.8 million) in bribes.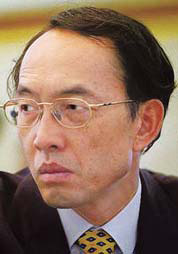 The sentence means Wang Yi's behavior in prison will be assessed for two years, following which he will have a chance to appeal for leniency. In China, death sentences with reprieves are usually commuted to life in prison.
The Beijing No 1 Intermediate People's Court delivered its verdict more than two weeks after Wang's trial began on March 30.
Wang was charged with taking bribes of more than 11.96 million yuan.
The court also ordered the confiscation of all of Wang's personal property.
According to the charges brought by the No 1 branch of Beijing Municipal People's Procuratorate, from November 1999 to February 2008, Wang took advantage of his post to illegally gain profits from several people and accepted or asked for bribes.
While delivering the verdict, the court said: "As the amount of bribes Wang took is very large, and he initiated asking for the bribes, Wang should have been sentenced to death.
Related readings:


 Avon suspends 4 executives amid bribery probe


 KPMG manager appears in court on bribery charge


 Former VP of Chinese bank stands trial for bribery


 Banker's bribery trial names two female celebrities

"However, considering he had been honest and confessed to his crimes and returned all the money, the death sentence does not have to be executed immediately."
According to the charges, Wang received all the bribes in exchange for helping companies get loans.
He helped Li Tao, a businessman from Hong Kong, secure a loan for a highway construction project, in exchange for which he received 5 million yuan, the prosecution said.
Wang also helped Zhou Hong, the chief executive of a steel slag company in Southwest China's Yunnan province, with business operations and loan applications, for which he received 6.3 million yuan in return.
Wang is one of eight ministerial-level officials who were being investigated for corruption last year. The others include Huang Songyou, former vice-president of the Supreme People's Court, and Chen Shaoji, former top political adviser of Guangdong province.
Following the verdict, Wang said he had not decided whether he would appeal the sentence.
The case gained nationwide attention when the names of two female celebrities - movie star Zhao Wei and China Central Television (CCTV) anchor Liu Fangfei - cropped up during the trial.
Earlier in his testimony, Li Tao said that years ago he had invited Wang to the opening ceremony of his company in Shenzhen, Guangdong province, and Wang arrived with Zhao, who was paid 300,000-yuan in "appearance fees".
Zhao later said that she does not know Wang and has nothing to do with the case.
Li said Wang also asked him to give CCTV anchor Liu 2 million yuan so that she could pay off her housing loan.
In 2008, Wang asked Liu to return the money to Li after the police investigations began.
It was reported that Wang and Liu had an affair and broke up about two years ago, as Wang's son was against the relationship.
Liu was also a witness in Wang's trial, during which she confirmed she had returned the money with interest to the Hong Kong businessman two years ago.
Wang, 54, had an impressive career trajectory before he was investigated for possible corruption.
He graduated in history from Peking University in 1984, following which he earned a doctorate in economics from Southwest China University of Finance and Economics.
At the age of 39, he became the vice-chairman of China Securities Regulatory Commission before being appointed vice-president of the CDB from 1999 to 2008.
CDB is a financial institution under the direct jurisdiction of the State Council. It is one of the three policy banks of China, primarily responsible for raising funds for large infrastructure projects, including most of the funding for the Three Gorges Dam and Shanghai Pudong International Airport.
China Daily