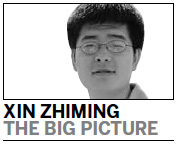 The recent wild surge in house prices has triggered worries about asset bubbles, but what could be more detrimental is its impact on public confidence in government policies.
In the longer term, such a lack of trust may undermine the effect of future policies for not only the housing sector, but the whole spectrum of the economy, politics and social life.
Data from both local governments and market dealers show that prices have risen crazily since late last year, especially the past month - the time when the central government took a series of measures to curb house price rises.
In Shenzhen, Guangdong province, for example, new home prices rose 120 percent in February year-on-year, according to statistics from the local land-use planning department.
Looking back, when the public groaned about "affordable" prices in the past decade, or to be more exact, during the 2006-10 period (coincidentally the 11th Five-Year Plan period), the central government issued policies to "regulate" the real estate sector.
Then prices would stabilize for a while, before surging once again, encouraging some developers to blatantly claim that prices would go on rising in the coming one or two decades without creating bubbles.
The question of how far the sector would go and whether there are bubbles, however, has become less important now that house prices have generally risen four or five times compared with five years ago amid repeated government vows to stabilize them.
Related readings:


 Blame the property boom on capital


 Property prices to see steady climb


 Sellers hope to ride even higher on property wave


State firms told to exit real estate sector
What we should think about seriously is dented public confidence and uncertainty regarding future government policies.
There have been less and less Chinese netizens, based on their recent online comments, who would believe the government could hold back home price surges this time.
The surprising record-breaking land sale prices for three lots of commercial land - which immediately drove up home prices - in Beijing upon the conclusion of the "two sessions", the meetings of the country's top legislators and advisers, in mid-March, only added to their distrust.
Some netizens even went so far as to apply "reverse reading" to policies aimed to curb excessive price rises, claiming that once policies are announced, a new round of price rises would occur.
The effect of government policies is to a large extent built on past records and credibility.
Furthermore, real estate sector policies, if they are thought to be ineffective, could have a spillover effect and affect confidence in all policies, be they political, economic or social.
xinzhiming@chinadaily.com.cn