BEIJING - The recent strong performance of technology stocks on the A-share market may be reminiscent of the internet bubble's peak 10 years ago but analysts said the current trend was far from crashing and there was still a lot for investors to expect.
Related readings:


 Media, tech gains brighten market


 Tech innovations that improve our quality of life


 Scientists relying on foreign technology


 Equities edge up, led by financials, tech
The share price of the ChiNext-listed Beijing Ultrapower Software Co Ltd hit a record high of 193.42 yuan last week, replacing liquor producer Kweichow Moutai Co Ltd as the highest-priced stock on the Chinese stock market.
While the overall market has seen dull range-bound movements for months, the electronic and information technology sector outperformed the market by surging more than 200 percent since the market bottomed out in October 2008. The benchmark Shanghai Composite Index rallied only about 80 percent during the same period.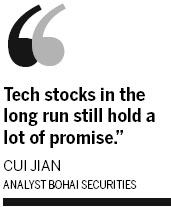 "Tech stocks in the long run still hold a lot of promise," said Cui Jian, an analyst at Bohai Securities. "A faster-than-expected recovery of the performance of the companies and the expectation of the government rolling out more favorable policies will continue to support the growth."
The Chinese electronic and IT industry, an export-reliant sector, has seen a dramatic rebound in revenues along the with the country's steady export recovery. IT service provider Beijing Ultrapower Software reported a total net profit of 271 million yuan in 2009, a year-on-year increase of 124.6 percent.
Meanwhile, the government has called for the acceleration of a proposal to integrate the country's Internet, telecommunications and broadcast media and is gearing up for greater spending and subsidies to facilitate the industry's development.
"The trend is unlikely to be just a short-lived phenomenon because the electronic and IT sector is becoming a strategic economic engine with more supportive government policies to be rolled out in the future," Cui said.
But analysts warned investors of a near-term downward pressure on technology shares as the launch of the long-awaited stock index futures will possibly boost blue chips and big-cap securities, which is likely to trigger a shift in the nature of the overall market.
Cui said the gains led by small and medium caps including tech stocks may be replaced in the second quarter by the blue chips because the trading of index futures is to make its debut on April 16.