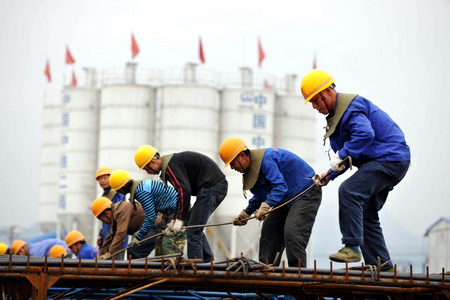 Workers lay tracks on China Railway Erju Co's railway project linking Chengdu and Dujiangyan in Sichuan province. [China Foto Press]
SHANGHAI: Stocks in companies from the nation's underdeveloped western region rallied on Wednesday after President Hu Jintao called for further efforts to boost economic growth in the area.
Stocks related to the Inner Mongolia autonomous region and Ningxia Hui autonomous region took the lead, rising 2.49 percent and 1.45 percent respectively. The benchmark Shanghai Composite Index edged up 0.12 percent on Wednesday.
Inner Mongolia Xishui Strong Year Co, a cement producer in the region, jumped to the daily limit of 10 percent to end at 16.6 yuan on Wednesday, while Inner Mongolia Mengdian Huaneng Thermal Power Corp rose 5.45 percent to 8.12 yuan.
Hu made the call during his three-day visit to northwestern Ningxia Hui autonomous region from Sunday to Tuesday, saying that development of the western region will be one of the priorities of the 12th Five-Year Plan (2011-15).
Speaking on the 10th anniversary of the launch of the western development strategy, he said the central government will provide more favorable policies and greater funding to the area.
China rolled out the policy in 2000 to boost the country's less developed western region that makes up a whopping 71.4 percent of the nation's total land, covering six provinces and five autonomous regions - Gansu, Guizhou, Qinghai, Shaanxi, Sichuan, Yunnan, Guangxi, Inner Mongolia, Ningxia, Tibet and Xinjiang, as well as Chongqing municipality.
"During the initial stage of development, the infrastructure industry, such as the cement, glass and steel sectors, will benefit from the policy the most, followed by the natural resource sector including coal and petrochemical companies, given the ample volume of such resources," said Yang Jianbo, an analyst with Guojin Asset Management Center.
Related readings:


 Mainland consumption, private sector stocks best bets: HSBC


 Stocks fall on prospect of cooling


 Stocks rise as rate hike concerns subside

According to the Chinese Academy of Land and Resource Economics, the western regions possess 53 percent of the country's total natural gas and 24 percent of its iron ore.
Sichuan-based China Railway Erju Co jumped 3.16 percent to 12.39 yuan on Wednesday. Sichuan Jinding Group, a cement producer, rose 1.92 percent to end at 7.95 yuan, while Xinjiang Tianshan Cement ended up 1.86 percent at 23.03 yuan.
Tibet Mineral Development Co Ltd, a ferrous metal miner, rose 1.17 percent to end at 22.55 yuan on Wednesday.
Guojin's Yang said that shares in service industries like tourism will increase as development in the regions progresses.
However, analysts pointed out that the rise of this sector will not last for long unless more detailed policies are laid out.
According to Zhang Xiang, an analyst at Guodu Securities, the central government's pledge to further develop the western region provides opportunities for investors.
"But the advances of construction companies need to be supported by government policies, otherwise the increase will only be short-lived," said Wu Fang, an analyst from Southwest Securities.