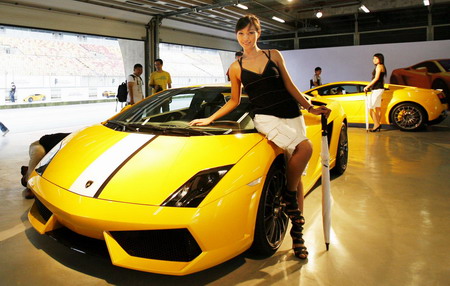 New model launches, particularly in the luxury car sector, proved to be one of the defining aspects of the buoyant Chinese automotive market last year. [Xinhua]
Editor's Note: 2009 proved highly eventful in China's expanding automotive market. Here we present a brief round-up of the key developments in this dynamic sector.
Whopping sales growth
China's auto market grew at a blistering pace in 2009 and unseated the US to become the world's No 1, powered by the nation's continuing economic growth. This has been seen by many as a truly exceptional performance, particularly as it came amid the hardships that faced the automotive industry globally as a result of the world's financial crisis. Vehicle sales in the year surged by 46.15 percent to 13.64 million units, exceeding all of the analysts' forecasts made at the beginning of the year.
Unprecedented M&As
The fragmented auto industry in China embraced a new round of mergers and acquisitions (M&As). In November, the Chang'an Motor Corp agreed to acquire the major auto businesses of one of the country's leading aircraft manufacturers, the Aviation Industry Corporation of China (AVIC). The deal was the largest auto M&A event in recent years. AVIC's two mini bus producers - Hafei and Changhe - and the engine company, Dong'an, will now be merged into Chang'an. The assets of Changhe's joint venture with Suzuki and Dong'an's engine tie-up with Mitisubishi will also be transferred into Chang'an. In return, AVIC will take a 23 percent stake of Chang'an. In May, the Guangzhou Automobile Group Corp bought a 29 percent stake of the Shanghai-listed SUV manufacturer, the Changfeng Motor Co Ltd, for 1 billion yuan ($146.48 million).
Major incentives
Related readings:


 World's top auto market keeps expanding


 China's Changan Auto to acquire AVIC's auto assets


 Auto stimulus retained for 2010


 German luxury carmakers find a beacon of light
The Chinese government took significant measures to stimulate vehicle demand last year. In January 2009, purchase taxes on vehicles, with an engine capacity of less than 1.6 liters, were cut to 5 percent from 10 percent. The government has also earmarked a total of 5 billion yuan to subsidize rural buyers of mini buses and trucks during the period between March 1 and December 31. These incentive measures have resulted in a substantial boost for vehicle sales in China.
Luxury car race
BMW, the premium German carmaker, announced, at the beginning of November, that it plans to increase its annual production capacity in China to 300,000 cars in the long term, together with its joint venture partner, Brilliance China. This is part of a bid to further exploit the growing luxury vehicle market. The two companies run a joint venture in Shenyang, which has an existing plant with an annual capacity of 41,000 units. The figure will rise to 75,000 units in 2010. A second plant will also be built in Shenyang this year, with an initial capacity of 25,000 units coming on line in 2012. The new factory's capacity will be upped to 100,000 units in 2016 or 2017. BMW's expansion plans will further intensify competition in China's growing luxury car market. Last September, another German premium carmaker, Audi, opened a new 100,000-unit plant in Changchun, doubling its total annual production capacity in China to 200,000 cars.