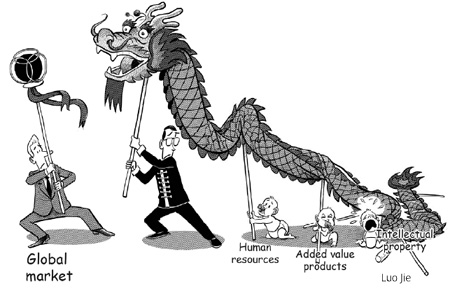 The post-global economic crisis era is both a challenge and an opportunity for Chinese enterprises. Joseph B. Fuller, CEO of Monitor Group and senior consultant and economic observer, tells China Daily's Wang Yiqing how they can rise up to the challenge and seize the opportunity.
China's economy has been quite resilient over the past one year. But it is still under pressure to sustain rapid economic growth. Since the recovery has been weak in Western countries, enterprises there will have less money to invest in China and their demand for Chinese products will remain lower than before, and thus weaken Chinese exports further. Among the problems facing China's economy from within is labor shortage, which could raise the costs of Chinese products and further ease the price advantage they enjoy in the global market.
All this means China cannot sustain a high economic growth by using the old approach, based on producing and exporting low-price, low-added-value goods. That is an advantage China has enjoyed over the past few years and used to capture a wide expanse of foreign markets, especially in the West. But that strategy has to change now.
Of course, Chinese manufacturers can turn to large developing markets in Asia and Africa, where the low-price, low-added-value goods' strategy could still help them expand their exports. But that would be only part of the solution.
Big developed economies consume three quarters of all manufactured goods. So in the long run, Chinese policymakers and enterprises have to move away from their low-price strategy, or else they will fail to maintain enough economic growth to ensure harmony in and prosperity of their society. Chinese companies have to cement their position in the global market, and for that they need to advance their technologies, go in for innovation and build brands. In other words, they should enter the Western market anew with profitable and added value products.
Companies across the world have always developed in the same way: They start off by making low-end products, develop their technologies and gradually start adding value to them in order to build a brand and get a firm foothold in the market.
Japanese and South Korean companies are apt examples of this phenomenon. In the early 1970s, Japanese products were considered inexpensive in the US. But by the 1980s, Japan had become the home for sophisticated hi-tech products, especially electronics. In the 1980s and early 1990s, South Korean companies began making low-end products following in the footsteps of their Japanese counterparts. But today, South Korea makes quite sophisticated products, particularly in the automobile and electronics sectors.
Now Chinese enterprises have to make that shift, which is no easy task. But then they cannot maintain high economic growth by sticking to the formula of making more and more low-price, low-added-value products. And since the process is long drawn and could take up to 20 years to complete, domestic enterprises should start making the shift immediately.
The next two decades will be extremely important for China if it wants to become a successful and responsible economic participant in major markets, instead of just being an exporter to those markets.
The "China threat" theory and the problems it creates, such as trade frictions and the pressure on Beijing to revaluate the yuan, have something to do with Westerners' ignorance about China. Most people in the West have a poor understanding of the country. Their perception of China is based on media reports: Exports have helped the country become rich. They don't understand the difficulties that China still faces such as a large population, unemployment and poverty in some areas.
Ideally, the next 20 years should see China investing more in the West and hiring more Western people just like the Japanese and South Koreans did a couple of decades ago. The fact that Japanese and South Korean companies directly employ a huge number of US citizens and their plants can be seen across America today has helped their products become globally recognized brands.
Chinese enterprises may think that employing Westerners and setting up plants in the West would entail huge costs, and it would be much cheaper for them to produce everything at home, or at least in Asia. But this may not work in the long run, because it could encourage protectionism and prevent China from accessing the right types of intellectual property and human resources, and becoming a producer of high added value goods.
To start with, China can invest its natural resources around the world, because it is much easier to become global in that industry and Chinese companies have a huge demand for raw materials.
But ultimately, Chinese enterprises have to expand their capacity to add value to their products, instead of just expanding their output capacity. They should focus on products that have high added value such as technology, intellectual property, human resources and brands. Plus, they should consider investing in companies that enjoy a reputation in the West as producers of high added value goods and then use their existing advantages in manufacturing and logistics to set up new companies.
This will be a great challenge for Chinese enterprises because only a few of them are experienced in having major investments and facilities outside China. And since it's more difficult to manage human resources than physical assets overseas, Chinese enterprises have to gradually go for assets in the West.
As a strategy to expand globally, Chinese enterprises should hire people who are more comfortable and knowledgeable about markets across the world to look after their international business, rather than putting homegrown mangers in charge. Chinese managers, experienced in global management, and qualified professionals returning from abroad who are comfortable with the Western environment, however, would be better choices.
Related readings:


 China's economy may surpass Japan: report


 IMF: China's economy up 10 percent in 2010


 China's economy hits annual target, but concerns linger


 China on the road to low-carbon economy
It is a fact that few foreigners can speak good Putonghua to be appointed executives in Chinese companies. But many a Western executive would be excited to get the opportunity to work for a Chinese enterprise. Creating openings for Westerners with more global skills will instill confidence in them to be good employees, which is an important part of global strategy.
These may be tough tasks for Chinese enterprises to fulfill, but there are reasons to be optimistic. Ten years ago, when I came to China, what I heard most was how badly China's State-owned enterprises were performing and how poor their products were. But on a recent visit to the State-owned Assets Supervision and Administration Commission of the State Council, I found many of those enterprises to be performing well.
Over the past 30 years, China has shown a great capacity to change and grow. What should Chinese enterprises do is start going global now, but go slowly.