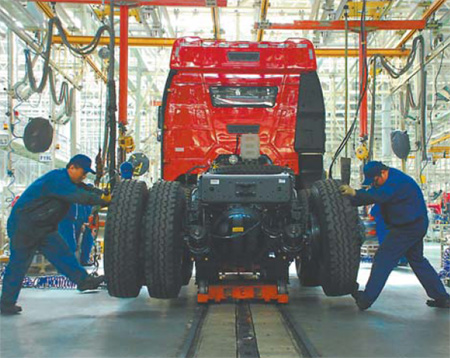 Workers fit the tires to the 10th million truck to roll off the production lines at First Automobile Works in Changchun, capital of Jilin province. [China Daily]
Last year was a remarkable one for China's automobile industry. Not only did the country snatch the crown as the world's largest car market from the United States, Chinese companies also branched out to buy up foreign brands and assets.
China sold 13.6 million vehicles last year, 45 percent higher than 2008 and the highest growth rate for more than two decades, according to figures released by the China Association of Automobile Manufacturers yesterday.
The surge saw the nation's automakers surpass US firms by more than 3 million units.
New car sales in the US plunged 21 percent to 10.4 million units, a 27-year low, in 2009, showed statistics from the Center for Automotive Research, a US consultancy.
Related readings:


 Driving mergers through successfully in the auto industry


 Auto industry in about turn


 Should China promote the Auto industry?


 Auto industry drives past major milestone
At the beginning of last year, Chinese automakers feared sales would not break the 10 million mark due to the gloomy economic climate after the industrial slowdown of 2008. But brisk sales saw analysts lift growth expectations every month, from a single-digit percentage to an unimaginable 40 percent.
The robust growth, in contrast to the plunge caused by the financial crisis in the West, were thanks in part to the central government's timely and active stimulus measures.
The stagnant car industry was given a shot in the arm in January last year when the State Council allocated 5 billion yuan ($730 million) towards providing 10 to 13-percent subsidies on vehicle purchases for rural residents. The government also halved purchase tax on vehicles with 1.6-liter engines or below, which make up nearly 85 percent of the market.
Subsidies of up to 3,000 yuan were also available for those looking to trade in their outdated and unsafe three- and four-wheeled farming machines for small, 1.3-liter or less vehicles.