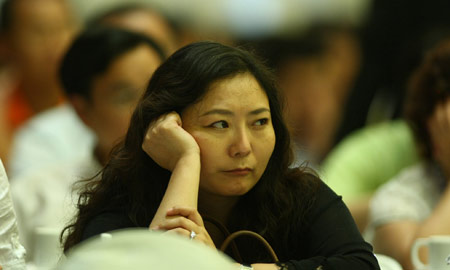 Wu Yajun 
Wu proves that women can make it in sector traditionally dominated by men
Longfor Properties president Wu Yajun is not only the richest woman in China but also the person in the country's real estate industry of whom least is known.
After Longfor made its debut on the Hong Kong bourse on November 19, Wu's wealth ballooned to 27.4 billion yuan ($4.01 billion), overtaking Yang Huiyan, president of Country Garden, to become the richest woman in the country.
Wu is not only well known for her wealth but also for her low-key business approach. She has adopted the "Three Nos" principle from the very start - no appearances on television, no interviews and no autographs. Were you to search for her photograph on google or baidu, you would only find five different results.
In 2003, Wu was listed as one of the 50 most influential people in China's real estate industry by the Hurun Report, a monthly magazine best known for its "China Rich List", a ranking of the wealthiest individuals in China. However, due to a lack of public information about her, Wu's full name was incorrectly spelt so most people think she is a man.
When asked why she kept such a low profile, Wu just smiled and said: "Well, I have nothing to talk about. I am just a person focusing on my own business."
In 1964, Wu was born to an ordinary family in Chongqing, a municipality in southwest China. She graduated from Northwestern Polytechnical University in 1984 and worked for China City Sightseeing Newspaper from 1988 to 1993 as a reporter and editor. The organization behind the newspaper was the construction bureau of Chongqing municipal government, enabling her to build up contacts within the government and business worlds. In 1995, she set up Chongqing Zhongjianke Real Estate Co Ltd with registered capital of 10 million yuan. The company was later renamed as Chongqing Longfor Properties Co Ltd.
Longfor Nanyuan, which was created in1995, was Wu's first project. Although she had no development experience at the time, it was regarded as a great success in Chongqing because of its fine construction, scenery, fittings and property management.
What also impressed people was the slogan of the project: "Be kind to yourself throughout your life". This later became Longfor's management motto. In each city, Longfor's developments include ordinary homes, high-end apartments and villas. Wu tries to meet customers' demands at different stages of their lives.
Though Longfor's projects were well received by customers and the company had a good cash flow, Wu didn't expand her business in a hurry because she felt she could not evaluate the potential risks. Instead, she worked on a variety of projects to gain experience. In 2000, Longfor began to expand and saw its sales exceeding 2 billion yuan in 2008, making it one of the major players in the industry.
It took Wu only15 years to transform Longfor from a small company into a big name in the industry, so what is behind her success?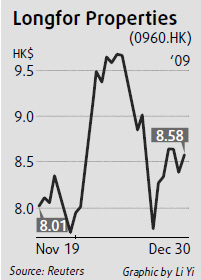 An insider, who used to be a senior manager at Longfor, said that soon after Wu set up Longfor, she took a trip to Shenzhen, trying to gain experience from Vanke, the country's largest real estate company. One of the major lessons she learned was to make the company's financial status open and transparent. When she returned, Wu hired PricewaterhouseCoopers as the company's auditor.
Wu was a good student in the eyes of Wang Shi, chairman of Vanke. Several years ago, Wang, who does not readily offer praise, hailed Longfor as "not the largest, but definitely the best property developer in Chongqing".
What makes Wu stand out among the fierce competition is her rigorous attention to detail and a constant striving for perfection.
This philosophy can be seen everywhere in the company. In the spring, Longfor usually arranges a mountain climbing expedition for older staff. To ensure the safety of the hike, the organizers inspect the journey at least three times beforehand and map out a detailed plan, including how many steep slopes will be encountered and at what stages participants may feel tired.
A senior manager at Vanke still remembers Longfor's micro-management during a visit to a Longfor project several years ago. When he was about to leave the project's show house, he found that the shoes he had left outside the door had been changed to point outwards so that he could put them on more easily. The consideration convinced him the Chongqing developer had a great future.
Wu's unremitting efforts in refining details and providing ever-better services paid off because they were passed on by word of mouth by customers. A Longfor survey in 2008 indicated that 38 percent of customers made a second purchase of homes developed by the company, and 50 percent of them said they would recommend Longfor to others.
Wang Zhigang, a well-known planner in the property industry, said Wu was "good at learning and strong at implementation". What impressed him most was Wu's humility and rigorous approach to work.
"She has been very successful in turning a small enterprise into a listed company. But you can't find any flippancy or arrogance in her," said Wang. "She always says she hasn't done well enough."
Sun Shenlin, chairman of South Group, said he really appreciated Wu's hard working spirit. "As a woman, she handles both business and family well - a rare talent."
Guo Zili, marketing chief of Green Valley, used to work at Longfor for two years. According to him, Wu is a leader with a thorough mind and an exceptionally strong implementation capability.
For Wang Dongfeng, general manager of Shanghai-based Chiway Land, Longfor is an invisible champion in Chongqing. "Though Longfor is pretty low-key in the country at large, the quality of their products should be respected," said Wang.
Related readings:


 Longfor Properties IPO raises HK$7.07b


 Longfor looking to launch HK$7.1b IPO


 Govt policies guiding stable growth in recovering property market


 Property companies slammed for back taxes
To be a respected company is clearly Wu's aim. She moved one step closer toward the target after Longfor floated its shares on the Hong Kong stock exchange. More international investors became aware of the company and many became Longfor's suitors.
Longfor saw its opening price set at HK$7.2 on its first day of trading, compared with a Hong Kong initial public offering (IPO) price of HK$7.07, near the top end of its indicated range. It closed at HK$8.01, up 13.3 percent. Longfor's offering price range represented a multiple of about 12 to 14 times 2010 forecast earnings. By comparison, peer company R&F trades at 11 times 2010 forecast earnings and Greentown China trades at 9.9 times 2010 forecast earnings.
Meanwhile, Longfor has signed up five cornerstone investors, including Government of Singapore Investment Corp GIC.UL, Temasek Holdings TEM.UL, Hong Kong Land, China's Ping An Insurance and Bank of China Group Investment Ltd, for a combined $197.5 million in shares.
So far, Longfor has expanded into 10 cities. Its land reserves stand at 19.16 million sq m. Over the past six years, Longfor was selected by China Association of Quality four times to see if customers were satisfied with the company's products or not. Every time, Longfor ranked first among more than 30 property developers. It seems appropriate that Wu Yajun's name in Chinese can be interpreted literally as "There is no runner-up".