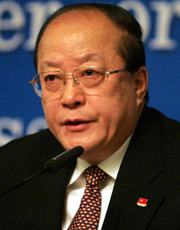 Li Changjiang
A government minister who lost his job over last year's tainted baby formula scandal has been appointed deputy head of a department leading China's war on porn.
Li Changjiang, 65, former head of the top quality agency, is now vice-director of the National Office Against Pornographic and Illegal Publications.
He was in Jiangsu province for his first campaign last Thursday and Friday, said a report in Southern Metropolis Daily yesterday.
Li resigned as minister of the General Administration of Quality Supervision, Inspection and Quarantine days after the Sanlu milk scandal was exposed last September.
The State Council had made a statement that the quality administration had to bear "supervision responsibility for the milk food contamination".
The tainted formula killed six children and led to more than 300,000 more suffering urinary tract problems, such as kidney stones.
Wang Yukai, a professor at the Chinese Academy of Governance, yesterday said he believes Li's appointment is in line with the official accountability regulations.
Related readings:


 Compensation lawsuit over tainted milk postponed


 Sanlu sued by tainted-milk victim family


 Premier: Govt responsible in tainted milk incident
However, Dong Shiliang, a father in Yunnan province whose 2-year-old son became ill after drinking tainted milk, said he felt "angry and helpless" after hearing the news of Li's appointment.
"My boy is still suffering as he has a stone still in his body, and Li bears responsibility," he told China Daily yesterday.
"The government should have asked the victims' families about Li's comeback first."
Xinhua contributed to the story