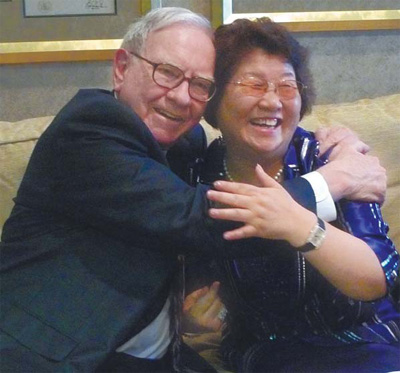 Warren Buffett, widely acknowledged as the "Oracle of Omaha" embraces Li Guilian, chairwoman of Dayang Trands, a sign of the friendship and respect he developed for one of China's leading businesswomen.
The Berkshire Hathaway Annual Meeting is always one of the high profile events on the US economic calendar. This year the shareholders of the company, one of America's leading insurance and investment businesses, were joined at their three-day meeting by a new face - Li Guilian, chairwoman of Dayang Trands, the Dalian-based menswear manufacturer.
Li was present at the event, held in the Mid-west city of Omaha in early May this year, at the particular invitation of Warren Buffett, chairman of Berkshire Hathaway and widely acknowledged as the "Oracle of Omaha".
During this event, Buffett sported Trands suits, tailor-made for him by the northeast China-based company.
The "Oracle of Omaha" not only held private talks with Li, but also signed the company's brochures, adding a ringing endorsement in his own inimitable style: "To Trands - Who make the suits I love. Congratulations on 30 years of excellence. You have taken the creation of men's clothing to a new high level."
Related readings:


 Buffett: Rock star of American capitalism


 Investors paid attention to Zhao/Buffett lunch


 Buffett plans to up stake, BYD gains 8% 


 Buffett's gamble pays off as BYD catches market fancy
Trands became the subject of much discussion at the Nebraska-held event, leading to orders for suits from some of the world's most successful businessmen. It seemed that Trands, long known as the leading high end menswear brand in China, was now the outfitter of choice for the world's business elite.
As a sign of the on-going friendship between the two, Buffett took the occasion of Dayang Trand's 30th anniversary to send Li a specially-made video, offering both the company and Li, personally, his congratulations on their three decades of growth and success.
Throughout the video, Buffett praised the company and Trands, reserving special applause for the hard work Li has put in developing the business
He said: "It's really a great pleasure for me to get this chance to be with my friends in China again, even though I have to do it via this tape. It's been almost two years since I visited Dalian and I had a wonderful time there.
"The mayor, the city and everybody I met there, made my trip a huge success and great pleasure for me. I hope to return there before too long.The highlight of my trip was getting to meet Madam Li and learn about Dayang Trands. What a wonderful company she has built up over the years! Imagine starting 30 years ago with a sewing machine and now turning out maybe 5 million suits something like that a year. It's a remarkable achievement. It's a story that should inspire people in China and inspire people around the world. I have told that story to many people here in the United States. They marveled at what Dayang Trands has achieved over just these 30 years.
"I have to tell you that I now have nine suits made in China. I threw away the rest of my suits. Our director, my partner Charlie Munger, Walter Scott, and even Bill Gates now is wearing suits made by Dayang Trands. They know and love Madam Li for what she has accomplished.
"The suits we received that's made in china; we never had it altered a quarter of inch and they fit perfectly. Since I wear Madam Li's suits, I get compliments on it all the time. Maybe, Bill Gates and I should start a clothing store and sell the suit made by Dayang Trands. We will be great sales man, because we love them so much. Someday we might be even richer. Who knows?
"I just want to take this opportunity to say, it's been 30 great years for the company; I wish them 30 more just like this. I hope ten years from now, I will be back here to celebrate your forty anniversary. And I hope to see my friends in Dalian very soon and have great time like before and I look forward to joining you again.
"Thank you very much Madam Li, thank you Dayang Trands for setting a marvelous example, what a business can accomplish in one person's life time!"