HONG KONG: US billionaire Warren Buffett intends to raise his stake in Chinese electric car and battery maker BYD Co Ltd, BYD's chairman said yesterday, sending shares in his company up 8 percent.
MidAmerican Energy Holdings, a unit of Buffett's Berkshire Hathaway, bought 10 percent of BYD for $230 million or about HK$8 a share last September, sparking a massive rally in the stock.
"MidAmerican has always intended to raise its stake in BYD, because it believes BYD has good prospects in the development of renewable energy, but we are still considering (whether to sell more)," BYD Chairman Wang Chuanfu told reporters yesterday.
BYD, the largest auto stock listed in Hong Kong so far, also said it expects to sell its e6 electric car in the United States in 2010, a year ahead of schedule.
"BYD shares are not cheap at the current price level, but since the company's strategy is in line with Beijing's policy, and with the support of Buffett, the market is willing to pay a premium for that," said Ben Kwong, the chief operating officer of KGI Asia.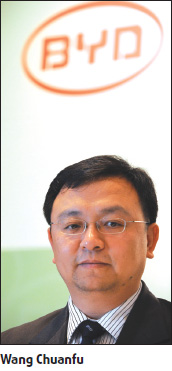 The central government has been encouraging local automakers to focus on more fuel-efficient models and environment-friendly technologies.
BYD shares rose 8 percent to close at HK$48.6 yesterday, more than six times what MidAmerican paid for its stake in a company now valued at about $13 billion. In comparison, the benchmark Hang Seng Index fell 1.9 percent.
BYD has ambitious plans for its hybrid and rechargeable electric vehicles, aiming to sell as many as 9 million units by 2025 to take on heavyweights like General Motors and Toyota Motor Corp.
It launched a gasoline-electric hybrid electric car, F3DM, on the mainland last year. BYD says the e6 is capable of driving 400 kilometers (249 miles) on a single charge.
"e6 will be launched in the United States by the end of 2010 and they are now being tested under US regulations," Wang said.
The electric cars will first be sold in Shenzhen in the fourth quarter of 2009 and will gradually expand to other mainland cities, he added.
BYD has sold about 100 F3DM cars to governments and corporates and plans to sell to individual customers starting in September.
It sold a total of 180,000 vehicles in the first half of the year, up 1.5 times from a year ago, which helped nearly double its net profit to 1.18 billion yuan ($173 million) for January-June.
BYD said it now hopes to exceed its 2009 sales target of 400,000 vehicles.
BYD is keen on a stock market listing on the mainland and may look to getting listed in the next year, Wang said.
The company has previously said it planned to issue up to 100 million A-shares on the Shenzhen stock exchange to raise capital for development projects.
The issue could be worth HK$4.6 billion ($594 million) based on its share price yesterday.
BYD, which began as a maker of rechargeable batteries in Shenzhen in 1995, is in talks to sell its batteries to multinational car makers including Volkswagen.
"Batteries are our core products and we are willing to supply them to companies in the same industry," Wang said.
Reuters
(HK Edition 09/01/2009 page4)