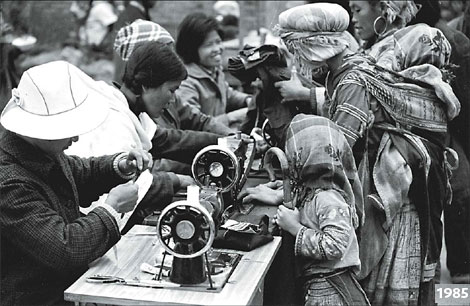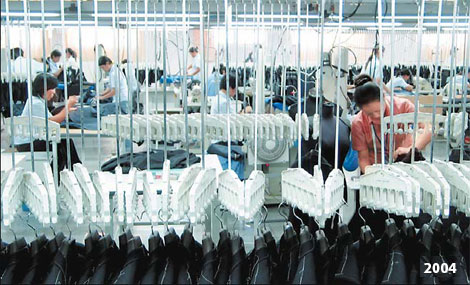 Buying new clothes was not easy in China through the 1960s and 70s. Clothes and fabrics to make them were generally unavailable, even if people had the money. In an economy bogged down by bureaucratic inefficiency many supplies were rationed, including clothes and basic.
Understandably, a sewing machine was an important household asset - to help make and mend clothes. People who were fortunate to own a sewing machine (a manual one had to suffice, for China still couldn't make electrical ones) could practically make a business with it by running a community tailoring service.
This was exactly the case in the black-and-white photo taken by China Daily photographer Wang Wenlan. A few women with a few sewing machines were enough to open a small marketplace.
The photo was taken in 1985 in China's southwestern frontier province of Yunnan, a land on the upper reaches of the Mekong. Although the locale was far from Beijing and Shanghai, and the time was long before China grew into one of the world's leading textile and garment makers, the beginning of a change was beyond doubt. You already had some market economy and private initiatives there.
Indeed, those women making or mending clothes for their customers (some of minority nationalities, as one can tell from their dress) should be regarded as pioneers of the nation's market-oriented reform.
When they moved their iron sewing machines to the village fair most of China's industry was still under monolithic State ownership, and very few services were available - from large cities to small townships.
Without personal efforts from millions of people, successful or otherwise, there could not have been enough driving force for China to experience the sweeping change which economists call development.
By the same token, without those seamstresses and many others like them in other cities and towns, probably China would not have had as many modern garment-making factories as shown in our color photo. It was taken in a garment factory in coastal Zhejiang Province in 2004, during the golden time for China's textile merchants.
When people come to talk about China's economic success, they tend to define it as a success of development. But as our photos tell, the true history is that China already began to change when development was still to come along. It's the market economy that leads all the change in China.