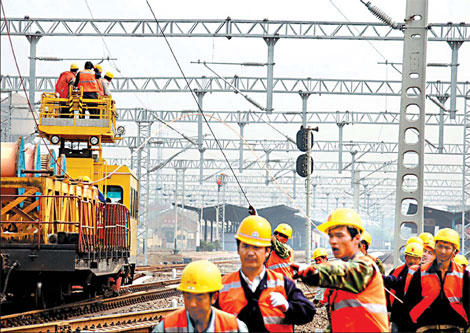 New electricity, transport and energy systems are powering up industries in Fushun, Liaoning province. [China Daily]
From a role-model of the planned economy to a rising market force, Liaoning province in northeast China, cited the eldest brother of New China, has made history in reform and opening over the past 30 years. People enjoy a richer life, enterprises yield more value and the natural environment is improving.
In 1978, the net annual income of Liaoning farmers was 185.2 yuan ($27.1). Last year it reached 4,773 yuan. In 1979, the gross domestic product of Liaoning was 24.5 billion yuan. Last year, it exceeded 1 trillion yuan.
Local people divide the decades in three periods.
The first, from 1979 to 1987, marked the kick-start of opening to the outside world. The province started to use overseas capital in 1979 and set up its first joint venture in 1983. In 1984, Dalian was chosen as one of the country's 14 coastal cities open to overseas investors. Two years later the province opened the Liaoning peninsula to the market economy.
The eventual full opening of the peninsula was realized in 1988, when the State Council affirmed eight cities and 17 counties and districts were open to the world.
In the second phase of reform until 2005, the Liaoning economy started to take off through the rise of three city clusters - the coastal cities headed by Dalian, central cities centering around Shenyang and western cities led by Jinzhou.
A third phase began in 2006, when the Dayao Bay Bonded Port Area was established in Dalian. The provincial government launched its 11th five-year plan and was determined to focus on five areas of development: Changxing Island in Dalian, coastal industrial bases in Yingkou, Jinzhou Bay in western Liaoning, port-related industries in Dandong, and Huayuankou industrial park in Zhuanghe. In 2007, central cities and areas were grouped under a new name: Shenyang Economic Zone.
Over the decades, the province has made progress in a range of economic and social aspects thanks to the reform and opening policies:
Promoting export-oriented economic growth
Investment and exports are major forces behind Liaoning's economic growth. Since 1982, the province has used $52.77 billion in foreign direct investment. Last year alone, the city made use of $9.1 billion, the fifth in the country.
Enterprises with overseas investments turned in 52.39 billion yuan in tax payments. Foreign investment has injected life to coastal economic belt that specializes in equipment manufacturing, refined steel, electronics and information industries.
Introducing in new technology and products to upgrade product structure
Among the world's top 500 businesses, 113 have investment projects in Liaoning, including Volkswagen, Intel, Hitachi and THK. Apart from capital, these ventures have brought more advanced technology.
Last year direct foreign capital totaled $380 million for hi-tech industries, $420 million for modern agriculture, and $920 million for modern services.
Expanding foreign trade and exchanges
Over the decades foreign trade has grown steadily. In 2007, the import and export volume of Liaoning was $59.47 billion, some 22.3 times that of 1979.
Exports still include traditional farm produce and fuel, but today there are increasing numbers of industrial products. Machinery exports rose to $13.25 billion last year, 37.5 percent of the total.
As well, 234 Liaoning enterprises made direct investments overseas between 2002 and October 2007 in projects such as mineral ore exploration, realty and software development came in countries as diverse Germany, Russia, Mongolia and Africa.
Accelerating reform of State-owned enterprises
The introduction of overseas companies also sped up restructuring of State-owned enterprises, which adapted to competition and improved their marketing skills, management level and operational mechanisms.
Easing fund shortages and improving the investment environment
Fund shortages have been a persistent problem for Liaoning development. Since the 1990s, inflows of foreign capital improved its communications and energy development. The period between 1996 and 2003 was the hardest time for the province to revive its old industries, a time when foreign capital comprised more than 20 percent of all in fixed asset investment in the province.
Changes in government functions
Liaoning has now established five national-level development and bonded zones, and 35 economic and technology development zones at the provincial level. Government departments have largely improved their services and changed their roles from planner to market supervisor and maco-policy maker.