Startup

In 2000, he registered PCPOP with his 10,000 yuan (US$1,258) savings from the three years' operation of his website, and moved to Beijing by the end of 2001. The revenue of the website amounted to 500,000 yuan (US$62, 924) in 2002, quadrupled in 2003 and reached 20 million yuan (US$2.5 million) in 2005.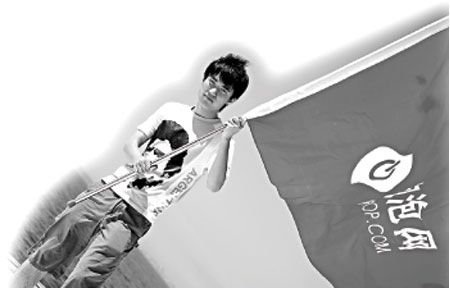 Li made his profit by luring users with content and services, and "advertisers knocked on the door as the visitors increased," he says. Li required his staff to post articles ahead of other media, "even five minutes ahead of others, and gradually we were recognized by manufacturers."
It was not always easy. In 2000, as the Internet bubble burst and many IT companies went bankrupt, Li lost all the advertisements on his website. "I did not think about giving up," Li says, noting he spent all the money he had to support his website. "I wrote articles for computer magazines, designed websites for others It was hard but I finally survived," he says.
When he first came to Beijing in 2001, Li and his partner rented a resident house nearby a university and set up his company. Li's mother, Wang Jie, accompanied him in the beginning and taught him how to do the laundry.
Li says he did not meet many difficulties in his own business. "There are always more methods than problems," he says.
The biggest challenge came in 2003, when 50 editors left the company, which then altogether had one hundred staff, and the website stopped operations.
"I called them one by one, asked them why they left and tried to get them back," Li says, remembering that he stayed up the whole night. "I was angry and anxious and had pimples burst out all over my face," he says. The next day, he had a meeting with the rest of the people in the company, started to recruit new staff, and the website was back to normal one week later.
"I have the typical personality of people born in the 1980s," Li says. "The good side is that I am always active and optimistic, but I am also too concerned about myself and tend to be unconscious of other people's feelings."
"I have become much gentler now. I am always willing to correct myself."
Li now works in his company during weekdays and studies management courses on the weekends.

(For more biz stories, please visit Industry Updates)