PCPOP's CEO, a young gun
By DIAO YING (China Daily)
Updated: 2006-10-24 11:07
In the summer of 1999, as three million Chinese students bogged down for the national college entrance exam, a test they generally prepare for throughout their entire childhood, 18-year-old Li Xiang decided to focus on his small Internet business.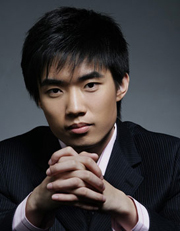 Li Xiang, the chief executive officer of PCPOP
It was at that point he realized "my website will die if I go to university. This is a great opportunity to start the business, and the chance may disappear in two years," says Li Xiang, now the chief executive officer of PCPOP.
PCPOP is a website that provides brand advertising of IT products for users and marketers in multiple categories. The turnover of Li's company in the last fiscal year was 20 million yuan (US$2.5 million) with a net profit of 10 million yuan (US$ 1.25 million).
Back to 1999. High school student Li had already been able to get 6,000 yuan (US$755) per month from advertisements on his website "Home to graphic cards."
"It was higher than the monthly income of my parents added together," Li recalls. Both of his parents were art workers in Shijiazhuang, a city in northern Hebei Province.
Throughout his three years in high school, Li spent at least five hours each day in front of the computer. He had enough reasons to persuade his parents the traditional path was not for him. He told them: "My website runs well, I have read all the magazines on the computer industry for six years and I understand the industry above all, I like it more than anything else."

(For more biz stories, please visit Industry Updates)