Baosteel Group Corp's overseas expansion plans will focus on raw materials until a "clear" picture emerges about global steel demand, the chairman of China's largest steelmaker said.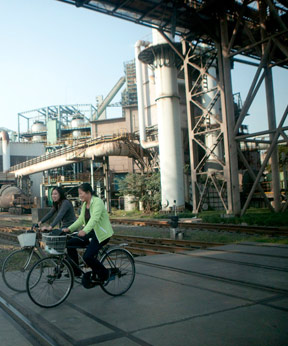 Employees ride bicycles inside the Baosteel facility in Shanghai. The company said that China may produce 570 million metric tons of steel this year. [Bloomberg News]
Other Chinese steelmakers are also likely to hold back from "large-scale" capacity expansion overseas in the next three to five years as they focus on completing domestic mergers, Baosteel's Xu Lejiang said yesterday at a conference in Beijing.
"Currently the majority of Chinese steelmakers don't have a very clear strategy in overseas expansion," Xu said. "I plan to just focus on resources and won't consider merging steel capacity or making new investments in building plants overseas unless I have a clear idea of how the market will grow."
Global steel demand will fall 8.6 percent this year as the biggest economic crisis since the Great Depression slashed purchases, the World Steel Association said in October. China plans to create one or two producers the size of global leader ArcelorMittal through mergers to win better prices from customers and material suppliers.
When Chinese steelmakers seek to expand overseas, they will probably focus on Brazil, Russia, India, the Middle East, Southeast Asia and Africa, Xu said. State-owned Baosteel, based in Shanghai, is China's largest steelmaker.
Baosteel, which controls listed Baoshan Iron & Steel Co, in October won regulatory approval from Australia to buy a 15 percent stake in Aquila Resources Ltd for A$285 million ($265 million). Aquila has announced plans to develop an iron ore project in Western Australia and coal mines in Queensland.
Baosteel may ask a Chinese coal company to help with the development of coal resources at Aquila Resources, Xu said yesterday. He didn't name potential partners.
Aquila Resources rose 1.5 percent to close at A$9.5 on the Australian stock exchange. Baoshan Steel gained 3.6 percent in Shanghai trading.
Related readings:


 Baosteel buys 15% stake in Aussie miner


 China's Baosteel says overhaul to lower Q4 sales


 Baosteel slashes steel product prices


 Baosteel's first-half profit down 92.7%
Chinese companies are increasingly buying iron ore and coal assets overseas in a bid to reduce their reliance on imports from companies including BHP Billiton Ltd and Rio Tinto Group.
China may produce 570 million metric tons of steel this year, with net exports of one million tons, Xu said. This compares with the 565 million tons production forecast made by the China Iron & Steel Association on Nov 19. The steel group had also predicted net exports of 1.2 million tons.
The government's 4 trillion yuan ($586 billion) stimulus spending has boosted economic growth and demand for construction steel, Xu said. Steelmakers are now asking themselves whether demand for construction steel would be "good" should fixed asset investment slow, he said.
Chinese steel prices have dropped 16 percent from a 10-month high on Aug 4 as mills compete to benefit from the stimulus.