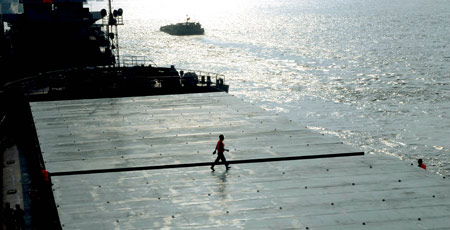 A ship laden with iron ore making its way into the industrial port of Wugang. The Chinese steelmaker will become the second-biggest shareholder in the Brazilian miner.[China Daily]
Steelmaker Wuhan Iron & Steel Group (Wugang) is acquiring a 21.52 percent stake in Brazilian iron ore miner MMX Mineracao e Metalicos SA for $400 million to bolster its iron ore supplies.
Rio de Janeiro-based MMX, controlled by Brazil's richest man Eike Batista, will issue new shares at an equivalent price of $3.93 each, according to a regulatory filing.
Wugang has also agreed to build a 5-million-ton steel plant in Brazil with MMX's parent EBX.
The Hubei-based steel maker will become the second-biggest shareholder in MMX and will also appoint two board members, according to a statement released yesterday.
"The stake buy will help Wugang secure iron ore supplies," said Wugang President Deng Qilin at the signing ceremony.
Wugang spokesman Bai Fang said in a telephone interview yesterday that he could not release further details as deal still needs to get approval from both the Chinese and Brazilian governments. "We are hopeful of starting work on the new steel plant next year provided we get the necessary approvals," he said.
China's largest steel producer Baosteel and Brazilian mining giant Vale had earlier planned to build a steel mill in Brazil, but deferred the plan in March as global steel demand slumped and steel mills started cutting existing output.
If the deal gets approved, Wugang will become China's first steelmaker to build a steel mill in Brazil.
MMX, which currently has the capacity to produce 10.8 million tons of iron ore a year from its Sudeste and Corumba mines, is expected to increase it iron ore capacity to 40 million tons by 2013.
"Chinese enterprises have been looking out for overseas buys to reduce the monopoly of the three giant miners Vale SA, Rio Tinto and BHP Billiton and counter their unreasonable pricing mechanism in iron ore talks," said Bai.
"Mainland steelmakers would also seek other investment opportunities in countries like Canada, Brazil and Australia, and also look for new opportunities in emerging markets like Ukraine," said Bai.
Earlier this month, Wugang got approval from the Australian government for a A$271 million ($249 million) investment in Centrex Metals Ltd, and also for a 60-percent stake in the iron ore rights of five Centrex projects in South Australia that could contain up to two billion tons of resources.
The Chinese steelmaker signed a long-term contract this month to buy iron ore from Venezuela's Corp Venezolana de Guayana.
In June, Wugang finalized the terms of a $240-million investment agreement with Consolidated Thompson Iron Mines of Canada for a 19.99 percent stake.
The two companies will also establish a limited partnership in which Wugang will hold a 25 percent interest, and to which Consolidated Thompson will contribute its Bloom Lake property, a development-stage iron ore project with a 34-year mining life.