China needs to develop e-commerce, industrial networks, and Internet banking: Ren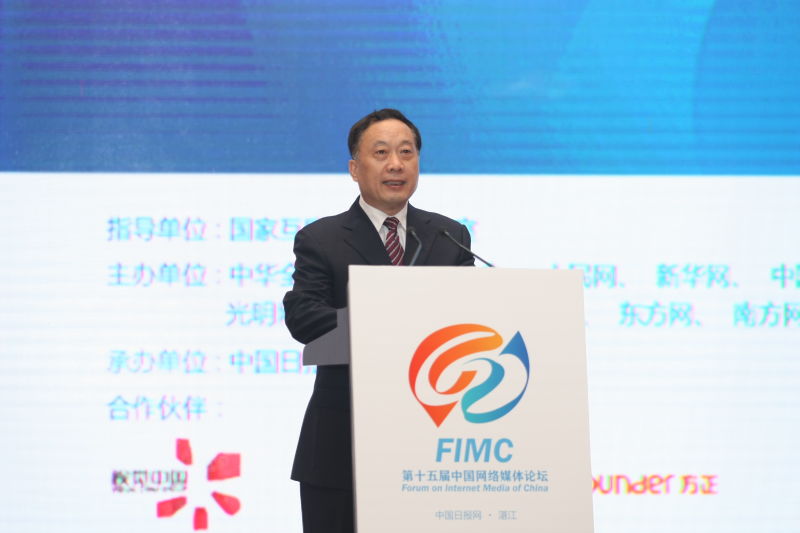 Ren Xianliang, deputy chief of the Cyberspace Administration of China, addresses the opening ceremony of the ongoing 15th Forum on Internet Media of China that runs through Saturday. [Photo by Zou Zhongpin / chinadaily.com.cn]
China's Web-based businesses and media are being urged to actively engage in the Belt and Road Initiative -- a trade and infrastructure network connecting Asia, Europe, and Africa – by building a "digital Silk Road" and helping upgrade traditional industries within and beyond the country's borders.
While implementing its own Internet Plus plan, where everything is connected to a super-fast broadband network infrastructure, China should develop e-commerce, industrial networks, and Internet banking beyond borders to serve more than a billion Internet users, businesses and investors along the "Belt and Road".
"Thus an intimate Internet Economic Common Community could be formed to benefit each country, whereby new consumption demands and services will be created, and market vitality and potentials stimulated and tapped," Ren Xianliang, deputy chief of the Cyberspace Administration of China, told the 15th Forum on Internet Media of China in Zhanjiang on Friday.
The Belt and Road Initiative refers to the Silk Road Economic Belt and the 21st Century Maritime Silk Road, proposed by Chinese President Xi Jinping in 2013 aiming to revive ancient trade routes between Asia and Europe. The trade and infrastructure network passes through at least 60 countries and regions, whose population amounts to 4.4 billion.
Zhanjiang, the host city of the 15th Forum on Internet Media of China, was a starting point of one of ancient China's earliest maritime trading routes, during the Han Dynasty (206 BC – AD 220). It is now one of the 15 pivotal cities in the Belt and Road Initiative.
Just like China, these countries and regions face similar challenges of upgrading their traditional industries, Ren said.
The senior official of the country's top Internet regulatory body said China would pace up the integration of mobile Internet, cloud computing, big data and the Internet of Things with modern manufacturing and traditional industries, and share its development benefits in the regard with other countries.
Addressing the Internet media forum, Ren said that information has become a core resource and has proven crucial to direct and promote the flow of technology, capital and human resources in China's cooperation with countries in Southeast and Central Asia.
He urged Web-based companies – many of them have sent representatives to participate in the form – to join the interconnectivity efforts prompted in the "Belt and Road Initiative" by increasing investment in networks infrastructure, and speed up the construction of a "digital Silk Road".
"This will enable more people to have access to the Internet, and will lay a solid foundation for the interconnectivity among countries and regions along the 'Belt and Road'," Ren said.
This was the second time in this month that China's top Internet regulator stressed the concept of "digital Silk Road". On July 6 at the first China-EU digital cooperation roundtable in Brussels, Lu Wei, minister of Office of the Central Leading Group for Cyberspace Affairs, told European technology executives: "We are ready to invest because there are infinite opportunities. We can build a digital Silk Road, a Silk Road in cyberspace".