Taxing luxury goods becomes a hot issue
Updated: 2011-10-24 09:22
By Liu Jie and Wang Wen (China Daily)
| | | | | | | | | | | |
| --- | --- | --- | --- | --- | --- | --- | --- | --- | --- | --- |
|   | | Comments() | | Print | | Mail | | Large Medium  Small | 分享按钮 | 0 |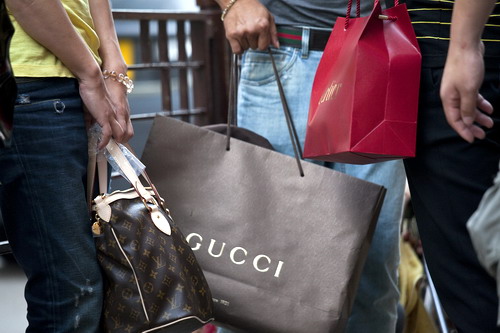 Shoppers holding bags from luxury stores Gucci, LVMH Moet Hennessy Louis Vuitton SA and Cartier Ltd in Hong Kong. Hong Kong retail sales, boosted by Chinese mainland tourists, surged 26 percent to HK$264 billion ($34 billion) in the eight months up to the end of August. [Photo/ Bloomberg]
Retailers, distributors and sellers are all keen to see duty lowered
BEIJING - International luxury brands competing to expand their presence in China have to face the fact that Chinese consumers prefer to buy premium goods abroad instead of domestically.
The World Luxury Association released a report in June revealing the Chinese spent nearly $50 billion in Europe, four times what they spent on luxury goods in 2010 on the Chinese mainland.
The figures have prompted hot debate on reducing China's import duty on luxury products. Although no general agreement has yet been reached, premium brand designers from overseas and distributors and retailers are keen on a tax cut.
Helmuth Hennig, managing director of Jebsen Group, a Hong Kong-based luxury marketing and distribution company, said it will be good news if a revised tax policy is released early next year.
If China issues a duty-reduction policy, "I think what we will do is to move some businesses which are currently conducted out of the country into the Chinese market", Hennig told China Daily.
Founded in 1895, Jebsen currently represents more than 200 premium brands in China, including Porsche, Bosch, Raymond Weil and Pentax.
"Taxes obviously affect expensive products, pushing consumers to consider where they make their purchases," Hennig said. "From that perspective, to me it makes sense that China should look at its overall tax situation."
Hennig pointed out a lot of Chinese consumers buy luxury items overseas because of the high import duty and taxes in China. "It may be good for the consumers but, at the same time, it may have a detrimental effect on China," he said.
Francois Henri Pinault, chief executive officer of PPR Group, is also aware of the situation. PPR is the world's third-largest luxury group by turnover. Based in Paris, it has 10 luxury brands including Gucci, Bottega Veneta and Yves Saint Laurent (YSL).
"In the future, Chinese consumers might well account for about 50 percent of worldwide luxury consumption, when you include internal and overseas consumption. Paris, Rome and Venice are their favorite destinations to buy luxury goods," said Pinault.
The United States Travel Association said that Chinese visitors spend on average more than $6,000 each in the United States, more than twice their counterparts from the United Kingdom.
"A tax cut will definitely help and improve our business in China. We are looking forward to it," said Lutz Bethge, chief executive officer of Montblanc. China has been the largest market for the German-based manufacturer of writing instruments, watches and accessories since 2007
Although expectations for the favorable policy are high, foreign luxury brands do not intend to slow down their expansion in China, given the huge potential of the emerging market as well as their ever-increasing profits here.
Because of rising disposable income and ever-increasing brand awareness, China is expected to surpass Japan by 2012 to become the world's largest luxury consumer market, with an estimated value of $14.6 billion, according to the World Luxury Association.
Jebsen, which already has solid bases in Beijing, Shanghai and Guangzhou, is eyeing untouched central and western China.
"When you look at the map of China, development must head further west to places such as Sichuan," said Hennig. "But I think every pocket has its own requirements and needs. So we need to understand which of our businesses should be the first to go, which one will establish itself through either its own distribution or third-party distribution."
The company is restructuring its business in China. The company's beverage business focuses primarily on southern and some eastern provinces, and the car business concentrates on major cities.
Jebsen's revenue in the first half of this year amounted to nearly $1 billion, an increase of 40 percent compared with the same period last year. The Chinese mainland's contribution to the group's business as a whole is growing very fast, according to Hennig.
PPR is increasing Chinese consumers' awareness of its brands with the launch of more new stores. Gucci will have 12 new directly operated stores in the Chinese mainland in 2011, the biggest yearly increase since the premium brand entered the mainland in 1992. Six of them had already opened by the end of August.
Gucci only had four stores in the mainland before 2004. Since then, the number of Gucci stores has increased to 54.
"We will continue to expand in new cities," Pinault said. "And in the existing cities, new sections, such as for men and for kids, and new brands, will also be brought to China."
The approach of putting new stores in more cities aims to improve local residents' recognition of the brand. People prefer familiar brands when they have the opportunity to buy luxury items.
However, Gucci recently came under fire after five former employees at its flagship store in Shenzhen lodged complaints about what they allege were inhumane working conditions at the company.
The Shenzhen city government is investigating Gucci and looking into the relevant rules and regulations of the Italian label.
Insiders said it has had an effect on Gucci's brand image in China, which may lead to a decline in sales and hinder its expansion plans.
In the first half of 2011, PPR's luxury business revenue in China increased by 45 percent to 443 million euros ($622 million) accounting for 19.8 percent of the group luxury activities. Meanwhile, Gucci's revenue experienced a 35.6 percent year-on-year rise in China to hit 337 million euros, while YSL and Bottega Veneta realized growth of 55.3 percent and 81.2 percent respectively.
China is a new market for overseas companies, given the vast land and specific characteristics of local consumers, according to Hennig.
Luxury means different things to different people. In China, luxury products are often bought to reward oneself.
"If someone has achieved something with his life, he is often willing to spend money on giving himself something which rewards success. Whatever it is has to be visible to the individual or to others as a symbol of success," said Hennig.
The marketer used luxury cars as an example. In Europe, consumers have the option to remove the label from their cars. On the rear of a Porsche, the GTS sign can be removed if the owner does not want others to see he or she drives a very expensive car.
"But in China, this kind of option does not exist because nobody is currently interested in it," he said. Jebsen's greatest challenge is to understand local people and their specific requirements, which are often different from one area to another.
To PPR, the challenge is to diversify its products. Currently, the group's products are mainly clothes, which have less added value among luxury goods. Pinault said it expects to expand its jewelry and watch business in the future.
Dong Tian contributed to this story.