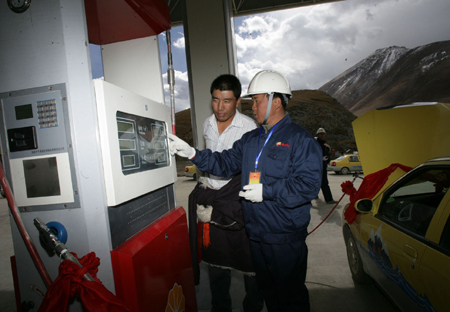 A worker fills a gas tank at a PetroChina natural gas station in Yushu, Qinghai province. [Photo / China Daily]
BEIJING - China's apparent natural gas consumption is expected to grow by 22.6 percent in 2011 from 106 billion cubic meters (cu m) in 2010.
That's because domestic consumption of the clean fuel is set to surge in accordance with the country's need to reduce carbon emissions, according to a report released by the research arm of China National Petroleum Corporation (CNPC).
The demand for natural gas may hit around 130 billion cu m in 2011, and the figure is set to climb to 230 billion cu m by 2015, the country's biggest oil and gas maker by market value said on Thursday.
Domestic output of the fuel will reach 150 billion cu m in 2015, a rise of 58 percent compared with 2010. "The three biggest State-owned oil and gas producers saw their natural gas production register a double-digit increase in 2010," said Duan Zhaofang, a natural gas researcher at the CNPC Research Institute of Economics and Technology.
China has become a net importer of the clean fuel since 2006 and its imports may reach 30 billion cu m this year from 2010, the report showed. That will include 15 billion cu m of piped gas and 120 million tons of liquefied natural gas (LNG).
China imported 4.4 billion cu m of natural gas from Central Asia in 2010, while construction began on a gas pipeline linking Myanmar and China in June and is expected to be operational in 2013. The world's largest energy consumer is currently negotiating with Russia, the world's largest supplier of oil and gas, to set up a pipeline that is expected to transport a total of 70 billion cu m of the fuel annually from 2015.
"Price remains a major factor in deterring natural gas imports," Duan said.
China hiked the factory price of domestically made natural gas in 2010, laying the foundations for a reform of the pricing scheme within one or two years, she said.
China aims to cut its carbon dioxide emissions per unit of GPD by 40 to 45 percent in 2020 from 2005's level. As such, the country has stepped up efforts to explore and produce unconventional natural gas, such as shale gas, as it strives for cleaner energy sources.
In addition, CNPC's report also projected that China's apparent oil demand may rise 18.7 percent from 2010 to 540 million tons in 2015 on the back of the country's rapid economic expansion. Apparent demand takes into account domestic output and net imports, but excludes stockpiles
Related readings:


 Natural gas pricing agreement close


 Discoveries fuel China's resource security


 PetroChina sells gas pipeline stake for $2.9b
Amid the consumption increase, the nation's overseas oil dependence ratio may climb to 60 percent from 55 percent in 2010.
China also accelerated the pace of cross-border cooperation in its "going abroad" policy last year, to tap into more natural resources through the merger and acquisitions (M&A) activities of its big oil and gas producers.
The amount of overseas M&A by Chinese firms in the oil and gas industry reached a new high of $30 billion in 2010, accounting for 20 percent of the global total, CNPC said.
Among the deals, 80 percent took place in Canada and South America and unconventional sources, including deepwater drilling and oil sands assets, accounted for more than 80 percent of the total cross-border transactions in terms of capital.
"Going forward, we expect that international cooperation will take place in Africa, South America, and Canada, given the ample reserves of oil and gas in those regions, " said Wu Mouyuan, engineer of Overseas Investment Environment Research Department under the CNPC's research institute.