Editor's Note: The Beijing Authority's decision to grant only 240,000 license plates in 2011—one third of 2010's total—to ease gridlock shattered many people's dreams of owning a car and propelled more to choose public transportation instead.
However, newly-opened subway lines, persistently cheap prices and an improved environment for public transport have made the choice less reluctant.

As five new subway lines opened on Dec 30, 2010, the total number of Beijing's lines grew to 14, bringing the Chinese national capital's total metro length to 336 km.sh
Beijing's metro network now hauls 5.02 million passengers daily. Beijing Subway Map
Beijing subway introduction
Line 1 is a straight East-West line that runs beneath Chang'an Avenue, which bisects the city through Tiananmen Square. Line 1 connects major commercial centers Xidan, Wangfujing, Dongdan and the Beijing CBD.
Line 2 is a rectangular loop line, tracing the Ming Dynasty-era city wall that once surrounded the inner city, and stops at 11 of the wall's former gates (ending in "men," as in "Xizhimen," West Gate, or "Dongzhimen," East Gate), busy intersections, and the Beijing Railway Station.
Line 4 is a mainly North-South line running West of the city's center, with stops at the Summer Palace, the Old Summer Palace, Peking and Renmin universities, Zhongguancun Technology Park, the National Library, the Beijing Zoo, Xidan and the Beijing South Railway Station.
Line 5 is a straight North-South line just east of the city's center. It passes through the Temple of Earth, Lama Temple and the Temple of Heaven.
Line 8 (Olympic Branch Line), still in its first phase, extends North of Line 10 with three stops in the Olympic Green.
Line 10 is an inverted L-shaped shaped route to the North and East of Line 2. It runs from East to West, following the Yuan Dynasty-era city wall in the North, passes just South of the Olympic Green, turns South at Sanyuanqiao, Northeast of the city's center, and follows the eastern 3rd Ring Road through the embassy district and Beijing CBD.
Line 13 arcs through the suburbs North of the city and carries commuters to Xizhimen and Dongzhimen, at the Northwest and Northeast corners of Line 2.
Line 15 branches off from Line 13 at Wangjing West and runs Northeast to Shunyi district in the suburbs.
The Batong Line extends Line 1 eastward from Sihui to the suburban Tongzhou district.
The Changping Line branches off from Line 13 at Xi'erqi and runs North to the suburban Changping district.
The Daxing Line extends Line 4 southward to the suburban Daxing district.
The Fangshan Line is currently a stand-alone line in Southwest Beijing that connects Dabaotai in Fengtai district with the Fangshan district in the suburbs. It will be linked to the subway network once Line 9 is completed in 2012.
The Yizhuang Line extends from Line 5's southernmost station to the Yizhuang Economic and Technological Development Zone in the southeastern suburbs.
The Airport Express Line connects the Beijing Capital International Airport, 27km Northeast of the city's center, with Line 10 at Sanyuanqiao and Lines 2 and 13 at Dongzhimen.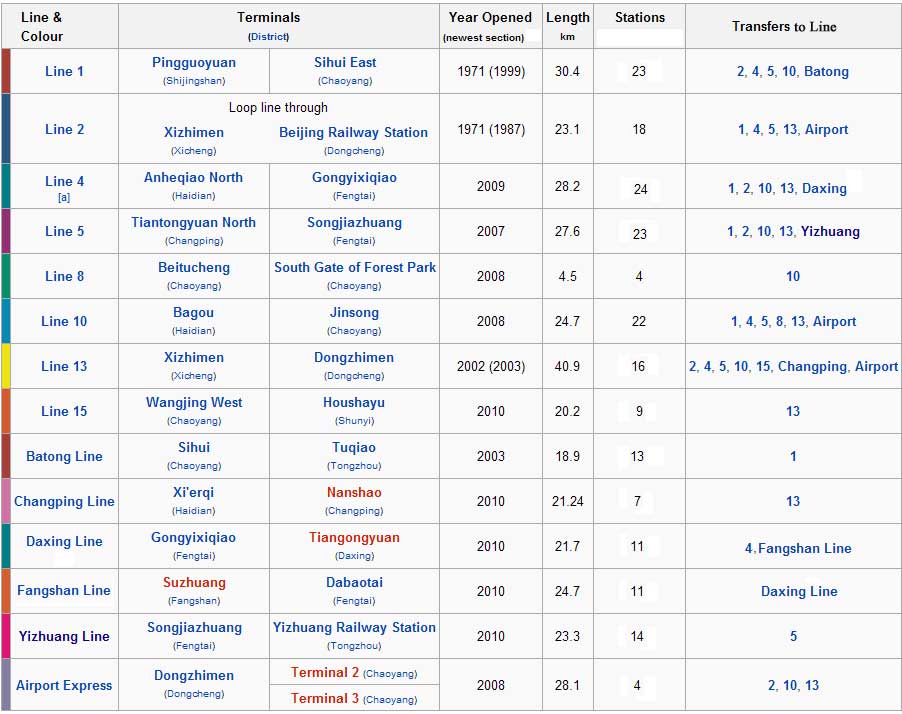 New bus lanes to ease congestion
Traffic police have opened nine designated bus lanes on some of the city's most notoriously congested roads.
The traffic authority said the special lanes were opened on Monday on Zhongguancun East Road, Fuxing Road, Shijingshan Road and Yaojiayuan Road, which are all notoriously busy roads.
"These roads have more commercial and residential establishments in recent years and the bus services in the areas are greatly affected. With the designated bus lanes, the public transportation efficiency will be improved," said the Beijing Traffic Management Bureau.
The new lanes are about 20 km in length and bring the total length in the city to about 300 km. [Full Story]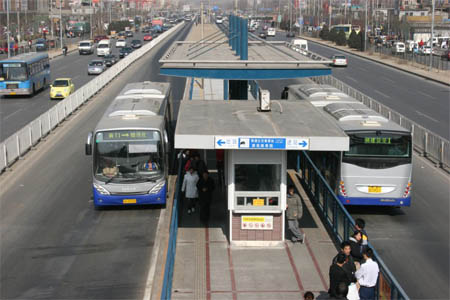 A BRT stop for Line 1
BRT
Running in their bus lanes exclusively reserved for them - the BRT buses are expected to move faster than other cars on the street, and are regarded as an effective way to solve the city's traffic gridlock.
Beijing has three Bus Rapid Transit (BRT) lines.
BRT Line 1, linking the downtown with the southern suburb, started operation in December 2005.
BRT Line 2 links the city's downtown to the eastern suburb, Tongzhou district.
BRT Line 3 connects the downtown with the northern suburb, Changping district, and passes the Bird's Nest, Water Cube and Olympic Media Village.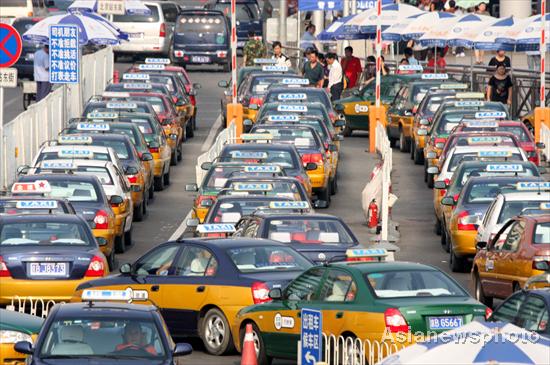 Taxis queue up for passengers in this file photo. [Photo / Asianewsphoto]
Taxi
It is said that there are currently 67,000 taxis on the road in Beijing. Some experts urge the number of taxis in the city to be cut, as many taxis run without passengers on the road. But still, there are people who can not find one easily when they need one, especially in peak hours.
Related readings
Foreign taxi driver gears up to put new show on the road
Talkative taxi drivers able to help me out of a jam
Taxi company monopolies allow 'black' cabs to flourish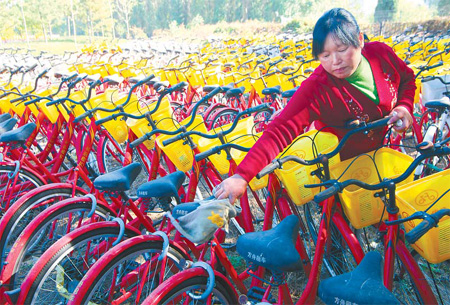 A worker with Fortune Bicycle Rental cleans dust on bicycles in Wangjing area on Wednesday. [China Daily] 
Rent a bicycle in Beijing
With Beijing's cars causing traffic congestion in the city , bicycles, the most popular vehicles in China in the past, should be in their element. But bike rental companies may not agree.
In July 2009, the Beijing municipal government announced plans to develop a 50,000-bicycle rental operation across the city.
"The bigger network we have, the more citizens will rent bikes," Li said. "This will make rental easier to citizens and we strongly need help from the government."
Related readings
Bikes the best way to handle our city's traffic
Bicycle rental plan falls flat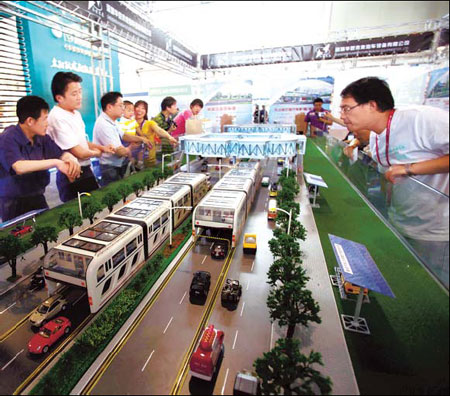 Visitors take a look at a model of the super bus system at the Beijing Science Expo. [Photo/China Daily]
Public transport tunnels into new dimension
Beijing, a city that is being choked by daily traffic jams, is adopting an imaginative remedy for its transport ills - tunnel buses.
"I was stuck in the middle of a severe traffic jam one day when the idea came to me: I wished that I could drive on a different level to escape the situation," said creator Song Youzhou, 52, chief executive officer of Huashi Future Parking Equipment.
The proposed "3D Express Coach," which was modeled off bridge cranes and the Airbus A-380 aircraft, will travel on rails at a top speed of 60 kilometers per hour and straddle two lanes of traffic, allowing cars to drive beneath its four 10-meter-long passenger compartments, which would be able to accommodate more than 1,000 people.
Song said, that unlike traditional buses, the tunnel bus does not take up road space, and can ease the capital's traffic volume by 20 to 30 percent. It is also eco-friendly, running on both electricity and solar power with zero carbon emissions.
A number of practical issues, including how the bus turns, and all safety issues have been taken into consideration, Song said. For example, what happens in the event of a car underneath bumping into it and now should passengers be evacuated should an accident occur. [Full story]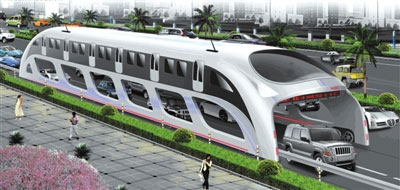 The straddling bus is 6 meters wide, 10 meters long per car and 4 to 4.5 meters tall, with two levels: passengers on the upper deck, while vehicles under 2 meters can go through under it. [Photo/Beijing Times]
First green 'tunnel' bus in China
Design and production work began Aug 24 on the first green "straddling" bus in China, and the vehicle is expected to be put into operation by the end of 2011, the Beijing Times reported on Aug 25.
China South Locomotive & Rolling Stock Corp Ltd (CSR) is responsible for the straddling bus program. Pilot use will begin in Beijing's Mentougou district.
The straddling bus is 6 meters wide, 10 meters long per car and 4 to 4.5 meters tall, with two levels: passengers on the upper deck, and a lower space that allows vehicles under 2 meters to travel under it. It will have a speed of up to 60 km/h. It is expected to reduce traffic jams by 20 percent to 30 percent.
Song Youzhou, chairman of Shenzhen Hashi Future Parking Equipment Co Ltd, said that this bus is cheaper and greener than a standard bus. It costs 50 million yuan ($7.4 million) to build one kilometer path for the bus, which is only 10 percent of the cost of building one kilometer subway track, and is powered by electricity and solar energy. [Full story]

Intelligent technology may divert traffic woes
Today, many companies have found a way to cash in on these very problems, including both international firms and homegrown startups. How? Via an intelligent transportation system (ITS) that use information and communications technology to manage vehicles, roads and routes, presenting a big market in a rapidly developing China.
ITS covers a wide range of functions related to city traffic management and highway management, such as electronic toll collection, dynamic traffic light sequencing, automatic road enforcement and road condition alerts. [Full story]

The shape of cities to come will follow new technology
Chinese cities are now highly dependent on cars, and the impact of this is now becoming clear. New government strategies look to put in place modern, efficient, high-capacity public transport infrastructure as the first component of any new urban master plan. In the future, these transport systems will connect directly with developments that sit either directly above the transport system or in close proximity to it.
The car has replaced the bicycle as the major mode of transport in China. This is a development emerging just as many Western cities begin to create dedicated city-wide cycle routes. Hopefully it won't be too long before China rediscovers the benefits of the bicycle. [Full story]
Related readings
Car-sharing will ease Shanghai's traffic problems
Shenzhen considers new ways to unsnarl traffic jams

Subway is the way to go despite all the criticism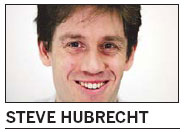 Beijingers seem to enjoy grumbling about the capital's transportation system. They moan about hours spent sitting in traffic jams in taxis, moving less than a kilometer an hour.
It's certainly true that Beijing's traffic is busy, and commuting - in a taxi, in your own car, or by bus - is a trial of your patience.
But Beijing's subway system is a great antidote.
Some people are quick to dismiss it, saying it is overcrowded and inefficient.
But look closer, or hop on the subway network outside of rush hours and you may be surprised at just how good it is. [Full Story]  

Cycle and help the environment
Cyclists' status and integrity should not be demeaned. On the contrary, bicycles are not only a healthy means of transportation, but also environmentally friendly.
The return of bicycles on roads is a return to rationality and a healthy lifestyle. As more people become aware of the drawbacks of modernization and urbanization, bicycles will regain their popularity and we will see more cyclists on city roads. [Full story]

Fair traffic approach
Municipal authorities in Beijing have refrained from adopting apparently effective, yet morally problematic measures to control traffic congestion.
These ideas, to further improve public transport and restrict the growth of automobile ownership by public offices, demonstrate more sophisticated thinking in composing a sensible local transport framework.
That more and more people want to own an automobile is also related to the inconvenience of using public transport. Making the city's buses and subways more accessible, convenient, efficient, and, better still, comfortable, will turn them into attractive options for local commuters. [Full story]