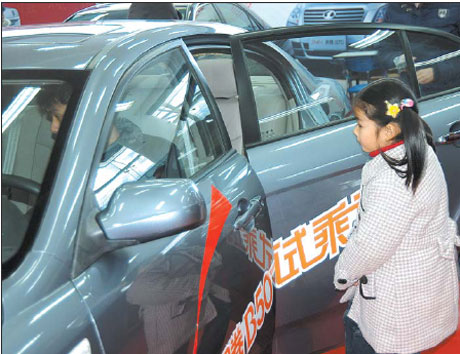 While even the young are fascinated by cars, growing signs of backed-up inventories indicate their parents' interest may be waning. Wang Yuewu / For China Daily
Government policies have helped fuel auto sales - but signs of a slowdown are emerging
Command economies don't work. The market mechanism is required to determine the optimal allocation of resources, the most efficient level of output, and the price that balances output with demand. Intervention by government tends to distort the economic balance, and lead to unsustainable conditions.
Assuredly, prosperity driven by government intervention will one day give way to hard times as the economy reasserts and rebalances itself.

That's the theory. And then there's China.
While China has adopted a wide range of free-market measures over the past 30 years, its economy remains subject to the orchestra-like commands of policy-makers in Beijing. And Chinese automakers couldn't be happier.
Their sales through the first quarter of 2010 are up by roughly 70 percent over the year ago period, continuing a surprisingly brisk pace that began to accelerate in September 2009.
Light vehicle sales, passenger vehicles and commercial vehicles under 6-tons totaled 4.4 million units in the January to March period, including 2.9 million passenger vehicles.
The numbers, when adjusted for seasonal variations, suggest full year 2010 light vehicle sales will surge as high as 17 million units. Industry analysts and automakers alike are adjusting their forecasts upward. At JD Power, we hold a slightly different view.
Sales growth to slow
We believe monthly sales will begin to slow and the industry's pace of development will pull back. Our expectations are for passenger vehicles to grow by 10 percent and light commercial vehicles to grow by 16 percent for the full year. In total, we expect China's light vehicle demand to reach 14.5 million units in 2010.
That is to say that we are impressed with the command that Chinese policymakers do have over the economy, and have exerted over the economy for the past 30 years.
Their efforts were never more crucial than in 2009. With the country facing a dramatic drop off in exports and foreign investment due to the global financial crisis, China aggressively moved to stimulate the economy with heavy fiscal spending and loose monetary policy.
In our view, the strong vehicle demand in the market today is in large part due to China's loose monetary conditions and the free-lending practices of Chinese banks.
While financing of car purchases has not increased dramatically over the past six months, we believe the surge in bank lending for fixed asset and infrastructure investment indirectly fueled vehicle demand through the multiplier effect and by triggering an upturn in consumer confidence.
We also recognize the intention of policymakers to now slow things down. China's economy grew by 11.7 percent in the first quarter of 2010 after growing by more than 10.5 percent in the fourth quarter of 2009.
Typically, China shoots for 8 percent growth. There are growing concerns over the quality of loans made during the rollout of the stimulus package, and over the looming threat of asset inflation.
With an eye on these threats, Beijing is raising reserve requirements for banks and has directed them to slow their pace of lending. Other measures take aim at the super-hot property market.
The tightening of bank lending will slow the rate of growth for the economy. We expect the slower economic growth to in time reduce the rate of growth for vehicle demand. While not yet overwhelming, there is some evidence a slowdown may have already started.
Consider that the seasonally adjusted annual rate for China's auto market declined in both February and March. We estimate that the annual rate for light vehicle demand fell from a staggering 18 million units in January to a lesser figure of 16 million units in March - which is still staggering.