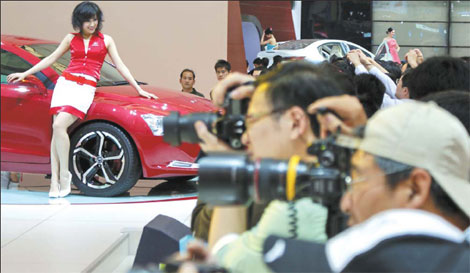 While styling and luxury are important to some respondents, most listed safety as their top concern. Jing Wei / For China Daily
Editor's note: China Daily conducted a survey of current car owners and potential buyers prior to the Beijing auto show to discover what shapes their buying decisions. Respondents answered standard questions on whether they have a car, if they have plans to buy, what their budget would be and what are their priorities when selecting a car.
Xenor Kuang, male, 36, business consultant

I have no cars now, but plan to buy one in 2011 so I can drive my child to school.
It should cost between 100,000 and 200,000 yuan. I prefer German cars.
Safety is my foremost consideration.
Yang Dong, male, 32, product division director of a State-owned telecom company

I have a 2.0L Citroen-Triomphe.
I plan to replace my car in two years, mainly for convenience. Another important reason is that I like autos.
The budget should be around 300,000 yuan. I will give more consideration to German cars.
Brand, power and engine are what I care about most.
Qiao Mu, male, 40, associate professor at a university in Beijing

My car is a Citroen Elysee 1.6V bought in 2006.
My current car is not often used, only for work and taking my kid to kindergarten. I plan to buy a new car in the next two years to replace the existing one, which has been used for four years.
The budget for the new car should be 150,000 to 180,000 yuan total, including tax.
Price, fuel saving and safety are my considerations in buying a new car.
Liu Feng, male, 36, division director for IT and logistics at a Hong Kong electronics group

I have a 1.8 L Roewe 550.
I will buy a new car in three to five years, mainly to take my family to go outdoors. If one vehicle is not enough, I'd like to have two.
The budget should be between 150,000 and 200,000 yuan. Now I think highly of the Touran.
I care most about safety, quality, price and fuel consumption in buying a car.
Michael Chen, male, 35, lawyer

Now I have a 2.5-liter Jeep 2500. I want to have another car in 2011 for business.
The price should be 250,000-300,000 yuan. I prefer a GM Buick Van GL8 2.5 or 3.0L
Cost and efficiency are my priorities when choosing a car.
Annie Yin, female, 32, business supervisor from a Hong Kong energy trading firm

I have no cars at present. I plan to buy one in 2011, mainly for family use.
The budget should be from 200,000 to 300,000 yuan. My choice will be a German vehicle.
I prefer safety and simple and yet elegant design in buying a car.
Huo Wei'an, male, 32, a teacher at a university in Beijing

I have no cars yet. I plan to buy one for work and travel on weekends. My budget is about 150,000 yuan.
Safety, space and maintenance fees are my main concerns.
He Rong, female, 25, staff of a State-owned company

I have no cars at present.
I have plans to buy, but the time is still uncertain. I would buy one as part of my dowry in the near future.
The budget will be 150,000-250,000 yuan.
Safety is the most important thing. Brand and price are also part of my considerations.
Wang Tao, male, 30, staff of an international environmental protection organization

I have a Golf 6 1.4TSI.
It bought recently, so I have no new plan at this moment. But in the future if the technology and infrastructure - like the availability of charging stations - for electric vehicles becomes mature, I will consider replacing my car with an electric one to make my contribution in reducing emissions.
Fuel economy and engine performance are the main reasons that I prefer the VW Golf 6. In addition, after-sales service and safety are also my considerations.
Stella Shen, female, 30, a China representative for a Western insurance company

I don't have a car yet.
But I plan to buy one in a year for work or for travel.
The cost should be 100,000-150,000 yuan. Safety is my top consideration in buying a car.