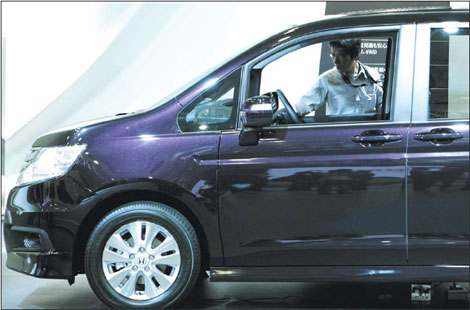 A visitor examines a new Honda minivan during its launch at the company's headquarters in Tokyo. Combined sales of Toyota, Honda, Renault/Nissan, General Motors, Ford and Chrysler slipped 22 percent in 2009 at a time the total market declined 13 percent. [Bloomberg]
Buoyant demand was to be found in virtually every region through 2007 and early 2008 but was dramatically damaged by the downturn.
The impact of subsequent industry adjustments and manufacturer's restructurings implemented to cope with effects of the crisis will be felt for decades to come.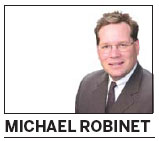 Global sales declined 4 percent in 2009 from the prior year. The contagion from one market to the next was especially evident in closely linked developed markets with significant trade interaction - an example of how interconnected industry can be both a good and bad thing.
Reduced demand for exports of all types heavily impacted economic growth in Western Europe and Japan as the race to correct inventories as quickly as possible drove many to slash output of goods.
Developed market volume, in US, Canada, Western Europe, China, South Korea and Australia, was down 10 percent for the year while developing markets grew 6 percent.
The inventory purge was especially evident in the major established markets such as the US, Canada, Japan, and Western Europe. Global production of light vehicles fell steeply by 13 percent, a total of 3 to 4 million vehicles.
In the US, it is estimated that over 1 million units were eliminated from inventory as dealers closed (consolidation at Chrysler and General Motors), stocks were slimmed as sales fell and brands quickly consolidated.
Through 2009, output of those manufacturers with considerable exposure to North America and Japan declined precipitously.
The combination of Toyota, Honda, Renault/Nissan, General Motors, Ford and Chrysler slipped 22 percent in 2009 versus the total market decline of 13 percent.
The West European scrappage programs in Germany, France, Spain and the United Kingdom had a marked, and encouraging, effect as the combination of PSA, Fiat and VW remarkably grew 5 percent in 2009.
As easily as the industry pulls back on inventory stock - an equivalent opposite reaction is required during sudden sales expansion. As sales volumes rise through 2010, inventory stocks need to be replenished in key markets such as North America, China, Brazil and India.
Total light vehicle sales are forecast to reach a 5 percent growth rate while total light vehicle production volume is expected to grow by 15 percent in 2010. The difference between sales and production growth is necessary to get inventories back to a normal level.