Perhaps the most captivating sports car of all time, the SLS AMG makes its Asia premiere and is available for pre-sales at the Beijing show.
To many it embodies perfection in design with its gullwing doors, wide radiator grille and wing-shaped cross fins that pay homage to the historic Mercedes-Benz 300 SL - the model that paved the way for future high performance vehicles.
Its power also mesmerizes with a 6.3-liter V8 engine pushing 650Nm of torque, a top speed of 317km/h, and a zero to 100km/h acceleration in just 3.8 seconds.
The stunning SLS AMG made its first appearance in China during last weekend's Chinese Formula One Grand Prix in Shanghai, serving as this year's Official Safety Car of F1 due to its first-class turn-in ability, agility and safety measures. Its extraordinary acceleration, sharp exterior, and even the sound of its roaring engine, seemed to attract the same attention from the Chinese audience as the legendary F1 cars themselves.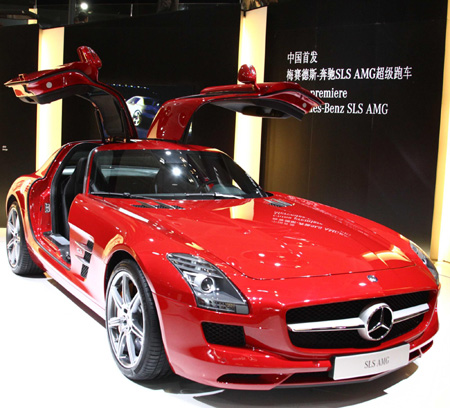 A new Mercedes-Benz SLS AMG car is displayed at the Beijing Auto Show in Beijing April 23, 2010. [Xinhua]