Editor's notes: Business is not only about numbers and figures. Rather than charts and graphs, sometimes the best way to tell a business story or illustrate an economic trend is to show readers a photo. The camera can capture intimate moments in time making details and emotions more directly accessible and more vivid than they would be in words. These 10 photos reflect some big moments in China's economic development this year, such as the consumer spending spree and rising tension over inflation concerns.
Click for more "top 10" topics
1. Oil spills pose threat to oceans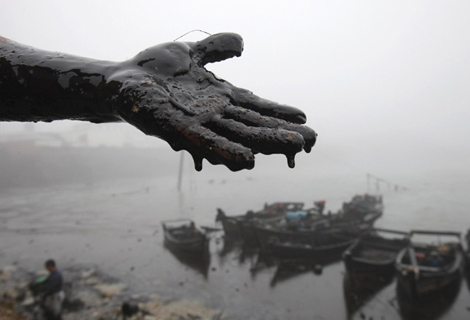 The hand of a worker involved in the clean-up of the Dalian oil spill is seen at Nanhaitun in Dalian, Liaoning province July 21, 2010. [Photo/Agencies]  
Oil spills are posing an increasing threat to China's marine environment as the country's energy demand grows, a leading environmental think tank warned.
A report released by the China Council for International Cooperation on Environment and Development said the volume of Chinese oil transported by sea now ranks third in the world following the United States and Japan. China's oil handling capacity is growing by more than 10 million tons every year, making China's oceans a potential site for marine incidents and oil spills. [Full Story]
Related readings:


Dalian oil spill contained, cleanup continues

Chemical error caused port pipeline blast, finds probe

China to enhance port safety after pipeline accident

1st oil tanker berths at Dalian port since pipe blast
2. Charity on menu for rich banquet guests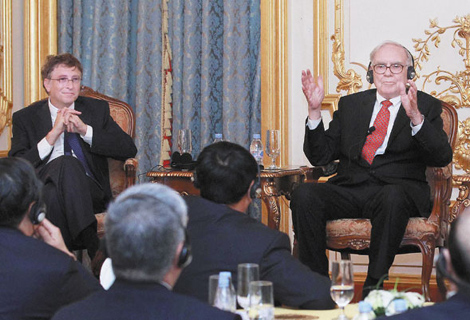 US billionaires Warren Buffett (right) and Bill Gates host a banquet in Beijing Sept 29 that has sparked debate about Chinese philanthropy. [Photo/Xinhua]  
Fifty Chinese guests attended a banquet Sept 29 with US billionaires Bill Gates and Warren Buffett to discuss philanthropy, the art of giving.
The banquet, preceded by a 90-minute discussion, was held at the Chateau Laffitte Hotel outside Beijing.
The guest list was not made public at the request of Buffett and Gates, but earlier reports said it included Pan Shiyi and Zhang Xin, the chairman and CEO of property developer SOHO China, and Niu Gensheng, founder of Mengniu Dairy. [Full Story]
Related readings:


 Wealthy wary of grand giveaways


 Tycoons digest charity banquet


 Charity dinner


 Buffett considers investing more in booming China
3. Crowds swarm store in search of iPhone 4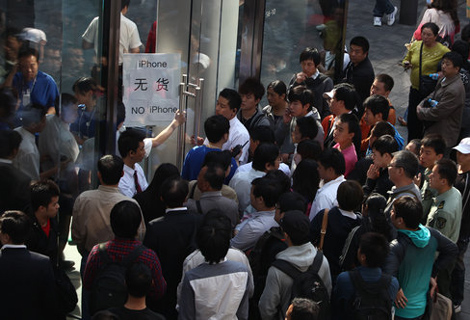 Customers swarm to buy the iPhone 4 outside an Apple flagship store in Beijing on Wednesday, Sept 29, 2010. The notice on the glass door reads, "No iPhone." [Photo/CFP]
Some would-be buyers waited all night for the chance to buy the hotly anticipated iPhone 4, which was introduced in China on Sept 25, and a few anxious people lost their cool, causing police to be called to the store in Sanlitun Village in Beijing.
A number of people camped overnight while others waited in line for hours in order to be among the first in China to buy the phone, [Full Story]
Related readings:


 Rush for iPhone 4


 China Unicom announces tighter iPhones regulations


 China Unicom takes orders for Apple's iPhone 4


 Apple takes steps to nip iPhone 4 scalping in bud
4. Inflation, prices top list of public concerns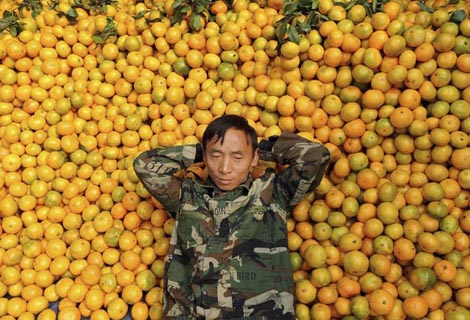 A vendor takes a break on oranges as he waits for customers at a market in Hefei, Anhui province Nov 12, 2010. According to Asian Citrus Holdings Ltd, China's largest orange producer and plantation owner, it planned to raise the price of its winter crop by 8 percent in October. This is more than double the usual 2 percent to 3 percent increase. [Photo/Agencies] 
 The number of citizens satisfied with current price levels has sunk to an 11-year low, the People's Bank of China (PBOC), the central bank, said.
The bank conducted a survey of 20,000 people during the fourth quarter in 50 cities across the mainland. Some 73.9 percent of respondents said current prices are "too high", up 15.6 percentage points from the third quarter, while 61.4 percent said they expect prices to continue to rise in the next quarter.
China's consumer price index (CPI) hit a 28-month high of 5.1 percent year-on-year in November. [Full Story]
Related readings:


 Soaring inflation fuels yuan appreciation talk


 China vegetable prices fall for fifth week: report


 China central bank highlights stable prices


 Inflation concerns to drive further growth in gold purchases in 2011
5. Civil service remains attractive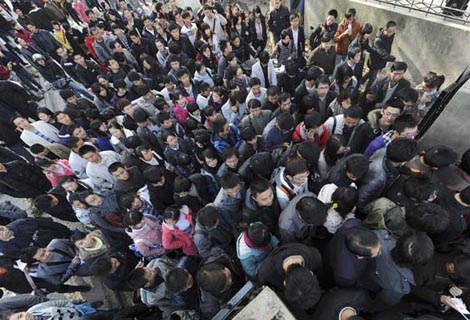 Participants leave the examination site after the first section of the annual national service examination to select government officials in Hefei, Anhui province Dec 5, 2010. More than 1.4 million people have applied for China's 2011 national service examination for civil service. [Photo/Agencies] 
The tough competition for a job in the civil service, in which more than 4,000 applications are received for some jobs, has not diminished applicants' desire to be a civil servant.
The number of qualified applicants who registered to take the 2011 national civil servants examination surpassed 1 million as of Oct 23, according to official figures. [Full Story]
Related readings:


 1.4 m take national civil servant exam


 HIV-positive still face job discrimination


 Civil service to harvest experience of farmers


 China launches trainings for grassroots officials
6. Growing pains of labor market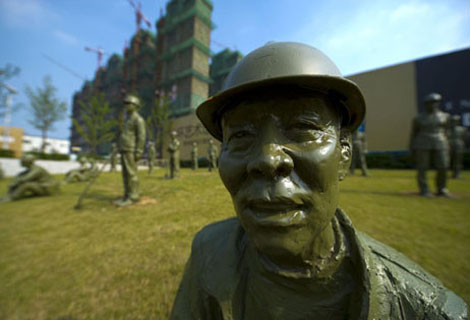 Migrant worker statues go on display in Hefei, August 9, 2010. A migrant worker-themed statue group of 20 figures was erected in the city in honor of their hard work for the city. [Photo/CFP] 
China will see a declining working-age population from 2017 or 2018, which is to reverse the supply-demand situation in the human resource market, according to a report released by the Chinese Academy of Social Sciences.
End of labor surplus means higher productivity should result in better and institutional services for migrant workers
Labor shortages and rising labor costs in China have caused growing hostility between management and labor. Building a collective negotiation mechanism is nothing but a makeshift measure to ease the tensions. The permanent cure lies in a mature institutional design of the labor market. [Full Story]
Related readings:


 Migrant workers can earn degrees


 Rising labor shortage hits delta regions


 Newspaper launches section aimed at migrant workers


 Migrant workers' wages set to surge in 2017
7. Demolition rules seek public input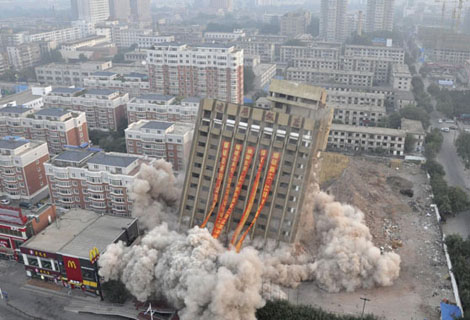 An 18-story hotel is demolished in Shenyang, Northeast China's Liaoning province, Sept 15, 2010. The hotel, which opened 1991, was demolished to make way for a new five-star international hotel, China Daily reported. [Photo/Agencies]  
Local governments will not be allowed to use their administrative rights to forcibly demolish citizens' properties, and forced home demolitions must go through the courts, according to draft proposals released on Dec 15 to gauge public opinion.
The proposals, in an updated draft revision to the urban home demolition regulations, were made available for public response until Dec 30. They also prohibit any organization or individual from using violence, threats or other illegal acts, such as cutting off water, electricity and transport access, to force relocations. [Full Story]
Related readings:


 House expropriation policy solicit suggestions


 Apartment project's toxic soil to be cleaned up in C China


 Restoring old Kashgar for a safer future


 Beijing's 'ablest nail house' leveled
8. Pet industry set to grow leaps and bounds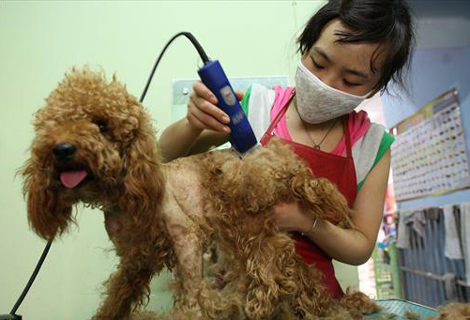 A dog gets a haircut at a pet shop in Shenyang, northeast China's Liaoning province, on Jan 18, 2010. Pet owners now like spending more money on their furry friends' looks, such as buying them coats, socks and glasses. [Photo / CFP]  
Biscuits with beef provide energy, while adding wheat and bananas into the concoction helps shed some extra pounds and keep a healthy balance. These tips are important for you, if you are a dog owner who loves your pet unconditionally.
Rapid economic development has reshaped Chinese lifestyles, and caring for a pet has become a new popular hobby for many Chinese. [Full Story]
Related readings:


 Pet industry thriving in China


 China's pet project, from pooches to porkers


 Pets having bathing machine


 Pet owners get the point of acupuncture
9. Capital seeking world-city role in tourism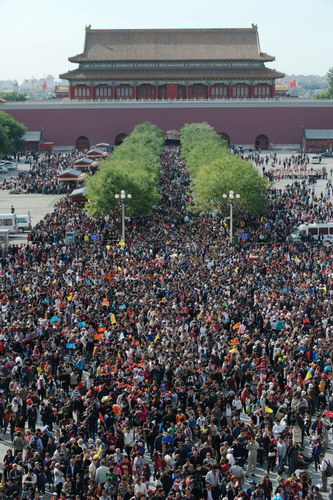 Thousands of tourists wait at the entrance of the Forbidden City in Beijing on Oct 3, 2010. [Photo/China Daily]  
As part of its drive to become a world city, Beijing is championing the setting up of an organization to promote tourism in cooperation with the rest of the world.
World Tourist City Organization (WTCO) will be made up of representatives from the world's most popular tourist cities, travel-related companies and travel associations. [Full Story]
Related readings:


 1.2m mainland tourists likely to visit Taiwan this year

 Large crowds force Forbidden City to rethink ticketing policy


 Winter tourism promotion plans issued for Anhui


 Local tourist agencies hold firm
10. Energy deals mark 'new era'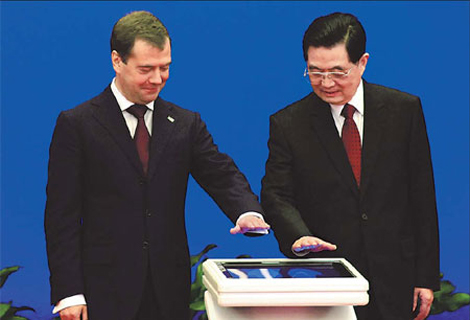 President Hu Jintao and his Russian counterpart Dmitry Medvedev attend a ceremony to mark completion of an oil pipeline project between the two countries at the Great Hall of the People in Beijing on Sept 28. [Photo/China Daily] 
China and Russia signed more than a dozen agreements Sept 27 to boost energy cooperation as leaders of the two countries hailed a deepening strategic partnership.
President Hu Jintao and Russian President Dmitry Medvedev witnessed the signing of 15 commercial deals as well as one on fighting terrorism, separatism and extremism.
One of the key deals was signed by China National Petroleum Corporation (CNPC) and Russia's Transneft over the operation of the oil pipeline that stretches from Skovorodino in eastern Siberia to Daqing in Northeast China. [Full Story]
Related readings:


 China, Russia ink statement to deepen strategic partnership


 Russia's President Medvedev calls at China


 China,Russia mark completion of crude oil pipeline


 China to increase coal imports from Russia