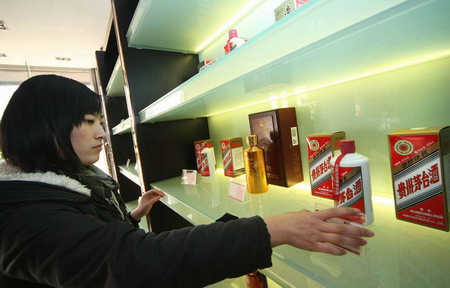 Strong demand for high-end liquor as Chinese New Year approaches has pushed up retail prices. [Photo / China Daily] 
SHANGHAI/BEIJING - As the Chinese New Year draws near, the demand for high-end Chinese liquor is soaring.
Well-known brands, including Kweichow Moutai and Wuliangye, have started raising liquor prices, but analysts said frequent surges will fuel market speculation.
Kweichow Moutai Co Ltd has just sent a price adjustment notice to major distributors, implementing a hike of 60 yuan ($9) on a standard size bottle of 53-degree Moutai Feitian. The 12.5 percent rise comes into effect on Jan 1st, 2011, the Southern Metropolis Daily reported on Tuesday.
However, Yao Hui, a Kweichou Moutai spokesperson denied the company has been involved in the rise. "Any price increase has been caused by a lack of supply from our distributors. Our ex-works price will remain unchanged at 579 yuan," said Yao.
According to Yao the reason that the current retail price of a standard bottle of Moutai has exceeded more than 800 yuan - the maximum price Kweichou Moutai allows its retailers to charge - is a reflection of the laws of supply and demand.
Yao said the current price rise is no different from previous years, "the pre-New Year period is usually a peak season for liquor sales", he explained. Wuliangye Group Co Ltd also denied similar reports.
"Apparently, the liquor companies didn't raise the price for their ex-works products, because they didn't send notices to the exchange. Usually, such changes will cause the listed companies' share price to fluctuate," said Tang Weiliang, an industrial analyst from Guangfa Securities.
Related readings:


 High-end liquor firms get busy


 Liquor producer Kweichow Moutai net profit up 13.5%


 Wuliangye '09 net profits up 79%


 Wineries: new fruitful industry
The last time that Kweichou Moutai raised its liquor price was around a year ago, when the Shanghai-listed company announced it was adding around 13 percent to all its liquor prices from Jan 1, 2010. Many other domestic producers followed that lead.
However, growing demand for the Guizhou-based liquor, sold under the name of Moutai Feitian, resulted in a price increase of 300 yuan (to 1,300 yuan a bottle) between late September and early December.
Zhao Jun, an industrial analyst from Xiangcai Securities attributed the price surge to market speculation. "Speculators are taking advantage of everything with a profit potential. If they can manipulate the prices of mung bean and garlic through heavy stockpiles, then of course they will do the same thing to liquor," said Zhao.
Zhao also dismissed a direct connection between a rise in the price of sorghum and that of Moutai, which is distilled from fermented sorghum. According to Zhao, the raw material costs account for about 10 percent of Moutai's retail price, "so the raw material cost has little impact on a sizable price hike of the liquor", Zhao added.
"In the long-run, the retail price of Moutai will rise because the spending power of Chinese consumers is rising.
As a national drink, Moutai is popular among Chinese families, though many have found it difficult to afford in previous years," Zhao noted.
According to Yao, KweichouMoutai increased its output to 26,000 tons, up 2,000 tons from 2009 levels, in order to satisfy market demand. That's no mean feat, as it usually takes five years to produce a single bottle of Moutai, he added.
China Daily's calls to Moutai's distribution center were not answered at the time of going to press.