Editor's note: High housing prices are becoming heavy burdens for those with mortgage loans. It may withhold some people of the post-80s generation from getting married, and may distort people's perceptions. However, unexpectedly, it may also help generate more creativity. It seems that we can live anywhere and take up as little space as possible.
Click for more "top 10" topics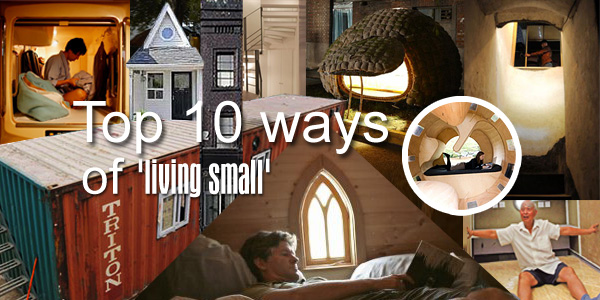 1. Egg-like house
Dai Haifei's egg-like house in Beijing has a solar module but has no kitchen and no toilet. It is just slightly warmer inside than outside in winter.
The 2-meter house with two wheels is made from sack bags on the outside, bamboo splints on the inside and wood chippings and grass seeds in between. This house was built for 6,427 yuan ($964).
After local media publicized his "home," Dai came under enormous pressure and removed it in early December. He lived a total of two months in his "egg house." [Full Coverage]
2. Container house
The "container house" is located near the 107 National Highway, Xinwu Street, Shenzhen Bao'an District.
The rent for the 6 meters by 3 meters space is 6 yuan per day, or 180 yuan per month, or 2,160 yuan per year. Most tenants of these container-restructured homes are construction workers. It costs just 10,000 yuan to buy one of these containers. [Full Coverage]
3. Capsule apartment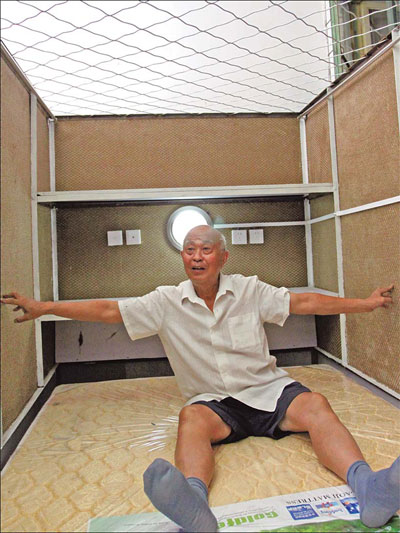 Huang Rixin shows his new capsule apartment, which he says is bigger and better than ever. [Photo / China Daily] 
The capsule apartment is located in Mayu village, Mentougou area, outside West 5th Ring Road in Beijing.
Huang Rixin divides a 53-square-meter space into eight "capsules." Seven are single-bed rooms and one has a double-bed. He wants to lease out a single-bed unit for 350 yuan a month. [Full Coverage]
4. Skinniest house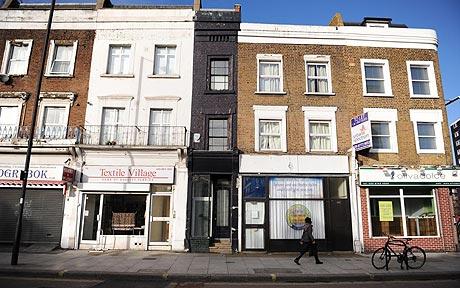 A thin house in Shepherds Bush, London is for sale for about 550,000 pounds [Photo / NATIONAL PICTURES] 
In a place like London, every piece of real estate is valuable, no matter how small it is.
A 1.68m wide house in London is dubbed the "skinniest home in Britain" and is for sale with a price tag of 549,950 pounds. [Full Coverage]
5. Underground chamber
Chen Xinnian, a 64-year-old former miner in Zhenzhou, Henan province, digs a 50-square-meter space underground, where there is an entrance hall, corridors and an 8-square-meter furnished bedroom.
There are cement steps leading to the underground area, and an electrical line from his above-ground home runs into it.
In the bedroom, walls are painted white, and a bookcase and loudspeaker are placed in front of a bed. [Full Coverage]
6. Rolling abode
Roll It, a cool experimental house, provides flexible space within a minimal housing unit. Three different sections are dedicated to different functional needs: there's a bed and table in one section, an exercise cylinder, and a kitchen with a sink.
The unit presents an outer shell with four support rings over a rigid inner shell, enveloped by a translucent membrane that also works as advertising space. [Full Coverage]
7. Tiny cubicle
The capsules, which have no doors and not enough room to stand up in, have become an option for some Japanese people who have nowhere else to go after they are laid off.
Although the cubicle is barely bigger than a coffin, the rent is surprisingly high: 59,000 yen a month, or about $640, for an upper bunk. [Full Coverage]
8. Mini house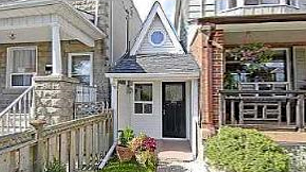 The smallest house in Toronto is for sale at $180,000. [Photo / cbc.ca]
Yes, it's a real house – all 300 square feet of it!! It's known as Toronto's Smallest House.
It has a bedroom, a kitchen, a living room and a bathroom. [Full Coverage]
9. House built on parking spot
In Tokyo, Fuyuhito Moriya, 39, and his mother, Yoko, live in a house that's built on 30 square meters, the size of a parking space for one car.
They live in what's called an ultra-small house -- about the size of an American walk-in closet -- a genre of single family homes bred of Japan's economic stagnation and brought to life by architectural ingenuity. [Full Coverage]
10. Wooden house on wheels
In a country where most people want to live large, Jay Shafer helps people live small. The California homebuilder has become a leader in a small but growing corner of the American housing market: the tiny house.
Schaefer, who lives in an 89-square-foot house with his wife, builds houses that are smaller than most people's living rooms. [Full Coverage]