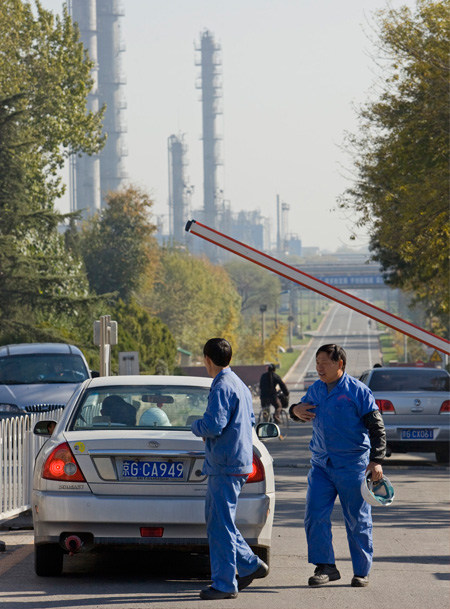 Workers arrive at the China Petroleum and Chemical Corp Dongfanghong refinery in Beijing on Nov 11. China's demand for oil may grow by three to four percent next year, a leading researcher said. [Photo/Aagencies] 
Economic growth will prompt greater petroleum use
BEIJING - China's oil consumption will increase by three to four percent next year as the economy continues to expand, according to research from a government think tank.
Han Wenke, director of the Energy Research Institute of the National Development and Reform Commission, made the prediction at the sidelines of a news briefing on Wednesday.
Crude oil consumption in China hit 388 million tons in 2009, an increase of 6.3 percent from the previous year.
The Chinese economy grew 10.6 percent year-on-year from January to September, suggesting recovery from the global financial crisis has been solid.
In light of the growing economy, Lin Boqiang, director of the China Center for Energy Economics Research at Xiamen University in East China's Fujian province, said oil consumption will increase next year, but believed Han's prediction was "conservative".
"The demand is there, obviously," Lin told China Daily.
"There are no obvious signs that the Chinese government will curb increasing domestic demand for automobiles, and it is not possible that the use of alternative energy will be greatly boosted to cut the reliance on oil in a short time," he said.
"On average, Chinese crude oil consumption has increased by 6 to 7 percent every year in the past decade, and according to the current situation, the trend looks to set continue," Lin said.
On the supply side, the international market will remain stable next year.
"The oil market will be very well supplied toward the end of next year," Nobuo Tanaka, the International Energy Agency's (IEA) executive director, said at a news briefing in Beijing on Tuesday.
Oil market supplies will be plentiful until the end of 2011, helping to meet global demand, if the Organization of Petroleum Exporting Countries (OPEC) keeps production quotas at current levels, he said.
The IEA has revised up its 2010 oil demand growth forecast by 190,000 barrels a day to 2.3 million barrels. That's on the back of demand from China, and in addition to the stockpiling of heating oil in Europe ahead of winter.
But the IEA also said global demand will slow in 2011 to 1.2 million barrels a day.
Tanaka didn't predict the oil price trend next year, but said the United States' latest round of quantitative easing "certainly has impacts" on the market.
The US Federal Reserve Board announced it would buy $600 billion worth of Treasury bonds earlier this month to revive its economy, a policy many analysts said will provide more capital for commodities including oil.
Hu Haiyan contributed to this story.