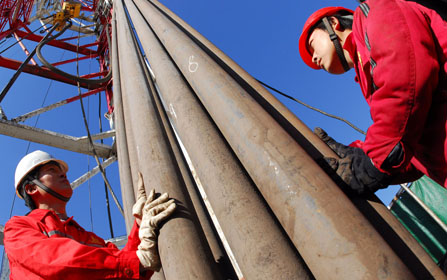 Workers at a gas field during a survey and exploration project in Junggar Basin, Xinjiang Uygur autonomous region. Chinese oil majors have increased their investment in gas exploration.[Photo/China Daily] 
State-owned companies spell out ambitious plans for green energy capacity
BEIJING - China's top three oil majors have tapped into the shale oil and gas area as part of their moves to develop green energy.
CNOOC Ltd said on Tuesday it had completed a deal with Chesapeake Energy Corp to buy a stake in a shale oil and gas project in the United States.
The deal, which is the latest step in CNOOC's overseas expansion, underlines its growing focus in developing unconventional resources to meet rising domestic demand, said analysts.
CNOOC purchased a 33.3 percent undivided interest in Chesapeake's 600,000 net oil and natural gas leasehold acres in the Eagle Ford Shale project in South Texas.
The company paid $1.08 billion in cash, plus an additional $40 million payment adjustment at closing, said a company statement.
In addition, CNOOC has agreed to fund 75 percent of Chesapeake's share of drilling and completion costs up to $1.08 billion, which Chesapeake expects to occur by the end of 2012.
Aubrey K. McClendon, Chesapeake's chief executive officer, said the project will result in a reduction of US oil imports over time, the creation of thousands of high-paying jobs in the US, and the payment of significant local, state and federal taxes.
Fu Chengyu, chairman of CNOOC, said the deal is "in line with our overseas development strategy."
The country's largest oil producer PetroChina said earlier it aims to produce 500 million cubic meters (cu m) of shale gas by 2015.
Chinese oil companies have also entered partnerships with foreign gas explorers, including Royal Dutch Shell PLC and Chevron Corp, to tap unconventional gas resources to help reduce reliance on oil and coal.
Shell's Chief Financial Officer Simon Henry said earlier that the company may invest $1 billion each year in China if PetroChina's two wells in Sichuan province prove they have the potential for commercial gas production.
PetroChina has started drilling two of its own shale exploration wells in Sichuan province.
Chevron and Sinopec, China's second-largest oil company, may sign an accord by the end of the year to develop shale gas in the southwest of the country.
Sinopec and BP PLC are also in talks to cooperate in shale gas exploration and development.
Sinopec has charted 2,000 square kilometers (sq km) in Kaili, Guizhou province in Southwest China, and 1,000 sq km in Huangqiao, Jiangsu province in East China, as potential cooperation blocks.
Statoil ASA, Norway's biggest company, also said it is close to a deal to explore shale gas reserves in China, the Financial Times reported earlier this month.
A form of shale gas market will emerge quickly in China as the players ramp up activities in the unconventional gas sector, which is likely to experience double-digit growth year-on-year, industry experts said.
"China has an enormous gas market to be filled, both in the short term and long term, where natural gas will account for as much as 12 percent of the primary energy needs over the next decade from the current 3.8 percent," said Arthur Hanna, global managing director of energy at consulting firm Accenture.
The country's annual use of shale gas is expected to be 15 billion cu m by 2020, 0.45 percent of total energy consumption, Zhang Hongtao, chief engineer at the Ministry of Land and Resources said at the 2010 China International Energy Forum last month.
China is at the preliminary stage of developing unconventional gases such as shale gas and coalbed methane gas. However, shale gas production has not yet started, while coalbed methane gas output is small.
The formation of a shale gas market is linked to the ability to access resources and exploration, pipelines that link assets with the market, and a downstream pricing mechanism, said Accenture's Hanna.
China will offer six shale gas exploration blocks to PetroChina, Sinopec, CNOOC and Shaanxi Yanchang Petroleum Group Co in an auction to take place by the end of November, said Zhang Dawei, deputy director of oil and gas strategy research at the Ministry of Land and Resources.
The shale gas blocks, each as large as 7,000 sq km, are in the provinces of Guizhou, Shanxi, Anhui and Zhejiang, and the municipality of Chongqing, Zhang said.
The government is considering offering an exploration subsidy of between 0.23 yuan (3 cents) and 0.3 yuan per cu m, said Zhang.
China may have 26 trillion cu m of shale gas reserves, more than 10 times its proven holdings of conventional natural gas, and production may reach the equivalent of as much as 12 percent of conventional gas output by then, according to Zhang.