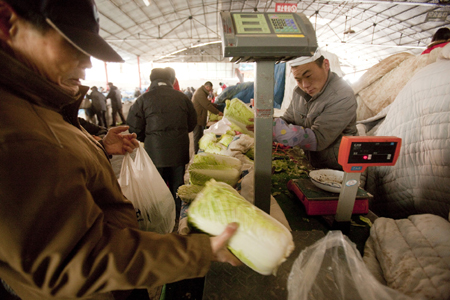 A man purchases cabbage at a market in Beijing. [Photo /  Bloomberg] 

Increase in the cost of 'soft' commodities helps drive market anxiety
BEIJING - When the Shanghai-based stand-up comedian Zhou Libo emphasized his "expensive taste" as a coffee drinker and mocked the Beijing crosstalk comedian Guo Degang as a garlic eater - thereby emphasizing the price disparity between the two products - he could never have foreseen that just months later the roles would be reversed.
The price of "soft" commodities such as garlic, mung beans, sugar, cotton, soybeans, bean oil and even apples has jumped month-on-month, making agricultural produce a major target for investors.
The price of sugar has increased 100 percent since the start of the year, while the price of garlic has surged nearly 10 times in some regions.
In Shandong province, a place famous for flavorings, the price of ginger has risen 4.5 yuan (67 US cents) per kilogram since July, making it 228.6 percent more expensive than the same period last year, according to a report in Beijing Youth Daily newspaper.
Data released by the National Development and Reform Commission (NDRC) on Tuesday shows that nearly 80 percent of food products in 36 major cities in China saw price increases in October from the month before.
The rising price of foodstuffs is creating inflationary pressure as previously undervalued agricultural products move toward normal levels, said Zhou Wangjun, deputy director of the NDRC's price division. Foodstuffs account for about one-third of the Consumer Price Index (CPI) weighting.
"During the process of industrialization and urbanization, the flow of labor and capital into cities accelerated, and led to a lack of production resources in rural areas, which now need price rises to compensate," he said.
"Hot money" seeking quick profits has also spurred the price of some agricultural products. Investors are flocking toward soft commodities to avoid the greater government controls in the real estate and stock markets, said analysts.
China faces strong inflationary pressure in the coming months after CPI hit a nearly two-year high in September, raising the possibility of more monetary tightening measures, economists said.
CPI, a main gauge of inflation, reached 3.6 percent in September year-on-year, and was up 0.6 percent from August.
Price rises contributed to 64 percent of the CPI increase, compared to 36 percent last year, said the National Bureau of Statistics. It will release figures for October on Nov 11.
Many analysts predict the figure will rise slightly before declining gradually by the end of the year mainly due to last year's higher comparison base.
CPI growth might reach 4.2 percent in October and start to decline in November, said Lu Zhengwei, chief economist at the Industrial Bank.
He said if the figure breaks 4 percent in October, the central bank would probably raise interest rates for a second time soon, and lift the reserve requirement for commercial banks in the fourth quarter.
The central bank raised the interest rate for the first time in nearly three years on Oct 20 to combat inflation and soak up excessive market liquidity.
"In coming months, unless vegetable prices slide by a large scale like in May and June, it is almost impossible for China to keep the inflation rate below the official target of 3 percent," said Lu Ting, an economist with the Bank of America Merrill Lynch.
Even if the CPI year-on-year growth of 2010 falls within 3 percent, the inflation rate of the country is already very high given that the official index undervalued the real situation somewhat, said Li Daokui, a member of the monetary policy committee of the People's Bank of China.
Coupled with structural deficiencies in domestic commodities, a rapid increase in international commodity prices would pose future inflation risks, said Cai Jin, deputy head of China Federation of Logistics and Purchasing.
Yi Jie contributed to the story.