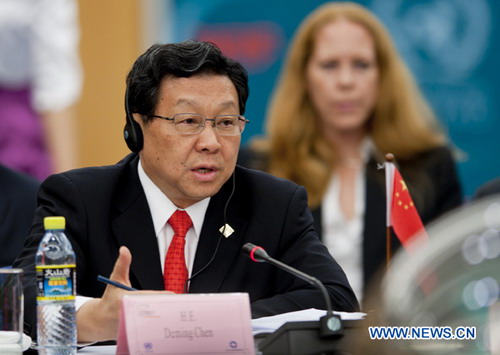 In this Sept 7, 2010 file photo, Chinese Minister of Commerce Chen Deming speaks during the ministerial round table of the 2nd World Investment Forum, which is sponsored by the United Nations Conference on Trade and Development (UNCTAD), in the coastal city of Xiamen, East China's Fujian Province. [Photo/Xinhua]
BEIJING -- Dollar issuance by the United States is "out of control", leading to an inflation assault on China, the Chinese commerce minister said in comments reported on Tuesday.
Related readings:


 Interest raised to check inflation


 Underlying inflation accelerates in Sept


 China's GDP grows 9.6% in Q3, inflation picks up


 Interest rate hike no cure for inflation: expert
Chen Deming, speaking at a trade fair in southern China, said that exporters had done a good job of preparing themselves for exchange rate changes as well as rising labour costs, but were suddenly confronted with new challenges.
"Because the United States' issuance of dollars is out of control and international commodity prices are continuing to rise, China is being attacked by imported inflation. The uncertainties of this are causing firms big problems," Chen was quoted as saying by the Xinhua news agency.
China's consumer price inflation rose to 3.6 percent in the year to September, a 23-month high. It has been led mainly by food costs and many economists expect it to crest before the end of the year.
Despite his concern about the impact of US monetary policy, Chen gave a positive outlook for Chinese trade next year. He said export growth would be stable, while imports would increase strongly