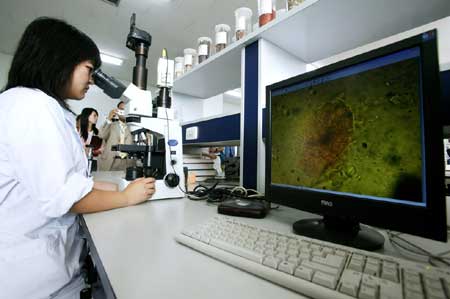 An employee of Beijing Tongrentang Co uses a microscope to analyze test samples at the company's laboratory in Beijing. Stephen Shaver / Bloomberg 
BEIJING - A leading traditional Chinese medicine company has signed a five-year contract to buy ginseng from Wisconsin, which produces 90 percent of the herb in the United States.
Beijing Tongrentang Health Pharmaceutical Co Ltd (TRT Health) recently became the exclusive dealer for the Ginseng Board of Wisconsin Inc (GBW).
The move will help cater to the increasing domestic demand for healthcare products and cut the cost of processing pharmaceutical products.
"We see the demand for healthcare products growing fast with the development of the Chinese economy and people's quality of life," said Mei Qun, president of China Beijing Tongrentang Group Co Ltd.
The new product will be sold under TRT Health's President brand umbrella and will target the high-end market. TRT is the most famous traditional Chinese medicine brand.
"By purchasing from the place of origin, we can lower the price to a reasonable level," Mei said.
US ginseng differs from traditional Chinese ginseng, which is a very strong medicine.
Though American ginseng has been widely planted in China, it is supposed to be weaker in efficacy than Chinese ginseng.
"Locally grown American ginseng is sweeter, which means its nutritional value is less," said Yang Wenlian, a consultant at TRT and professor at the Beijing University of Chinese Medicine.
"Among US-grown ginseng, Wisconsin ginseng is the best in terms of quality," said Hutch Weege, international marketing director of GBW.
Wisconsin's soil and weather conditions make it the perfect place to plant ginseng, he added.
GBW, which represents ginseng farmers in Wisconsin, accounts for 90 percent of US ginseng output and contributes 10 percent to the total world production of the herb.
"Controlling the raw material supply will help TRT reduce its costs since medicinal herbs are expected to cost more in the coming years," said Li Quanbing, an analyst from Wanlian Securities Co Ltd.
Yu Jun, president of TRT Health, said that the company was also on track for more rapid expansion.
"TRT Health is on a fast growth mode, with 200 new stores being opened each year," Yu said.
"We will make use of our strength, namely the 1,000 drugstores we have across the country, to help retail this product."
Yu also said the company would double the number of drugstores "very soon".