Beijing's fruit lovers will soon see supermarket shelves stocked with affordable organic fruit from around the world after a huge distribution center opened in the capital.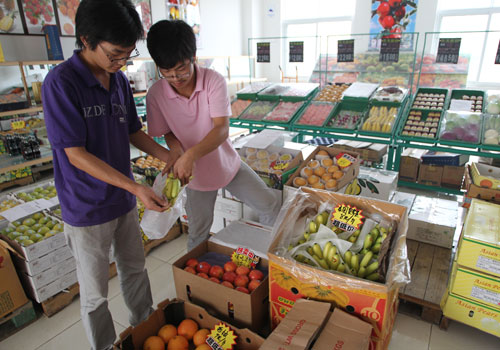 Xin Fa Di International Green Distribution Center stocks fruit from 16 countries. All the fruit is shipped directly from abroad and is relatively fresh and inexpensive. [Photo/China Daily]
The Xin Fa Di International Green Distribution Center, which officially opened its doors last week, will soon be stocking more than 100 big-name Beijing supermarkets, including Walmart and Carrefour, with imported organic fruit that will be sold at local prices.
Shi Yanhui is the managing director of Evergreen Zhonghong Fruit, Vegetable & Food Co Ltd, which is housed in one of 10 small offices set up on the first floor of the four-story distribution center.
In his shop, distributors can find foods from across the globe, ranging from organic apples imported directly from Chile to ripe red Washington cherries.
Shi said Chinese produce is cheap, but usually the quality is not good. Cutting out the middle man and selling wholesale allows shops like his to sell quality imported fruit at local prices, he said.
"Chinese people are living higher level lifestyles than they used to. They want quality, good-tasting food. They want more exotic things and, here, we can bring them that at the same cost as Chinese produce," he said.
While price is often one of the biggest concerns, another is trusting whether or not the fruit is from where the label claims.
Jeaneah Paik, an American expat who began eating organic food after she became pregnant, said her biggest complaint is that many stores claim to have organic food but they are often just labeled that way so the stores can charge more.
"It's hard to find organic stuff that you can actually believe in," she said. "The prices are often high and the quality and location are hard to determine."
But Xin Fa Di International Green Distribution Center seeks to change the attitude of organic consumers by introducing an advanced six-system inspection and labeling process, said Birdie Guan, marketing manager of the center.

More stories:


 China to tighten food safety supervision


 China told to develop its own GM food


 How to ensure food security
With the Beijing Science and Technology Commission donating more than 10 million yuan ($1.5 million) to help develop the inspection process, Guan said it is one of a kind.
"There's never before been a more thorough inspection process in Beijing," she said.
The money was also used to help develop a state-of-the-art labeling system that allows customers to scan the labels of produce into computers in supermarkets, obtaining details about the fruit's origin, purchase date and quality.
"It means we can guarantee the source and quality of the produce," said Guan.
While, for many shoppers, this presents an opportunity to gorge on exotic fruit, the fuel used to ship the fruit from overseas will harm the environment, counteracting the benefits of the organic status, according to one industry expert.
"A lot of fruit has to be flown in, or they come by train or by ship, and that takes a lot of energy. What do you think about the carbon footprint?" asked Zhang Yinghai, author of the Offspring of Nature blog and one of China's top organic food advocates.
"China is a big agricultural country. We produce lots of different kinds of food. What's the point of importing organic food?" she asked.