Iconic, entirely UK-made brand boosts dealer network, streamlines import approach
BEIJING - Growth in the overall Chinese auto market has slowed over the past three months, but British luxury brand Jaguar has continued to set new company records.
Its first-half sales reached an all-time high of 1,500 vehicles with June sales, passing the 400-unit threshold for the first time.
The solid performance is expected to help the premium carmaker far surpass its 2009 tally of about 1,800 units by the end of the year.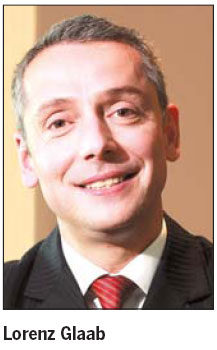 Lorenz Glaab, general manager of Jaguar China, declined to disclose the company's sales goal in China this year, but said their products are "still in high demand".
"We do believe that as the society here (in China) matures and customer taste matures, the luxury market in general has a very bright future," he said.
"More and more of our Chinese friends, with their discerning and knowledgeable taste, will opt for a premium product."
Expanding network
Glaab pointed out that Jaguar's proactive presence in China was the key to brisk sales. He added that one of its keys to business development is expansion of the dealer network.
Jaguar currently has 37 dealer outlets in the country, now its third-largest market worldwide after the US and UK. The company will broaden its dealer network "quite significantly" over the next couple of years to make its products more accessible, said Glaab.
Jaguar, together with its sister brand Land Rover, is also preparing for a transition from using import companies to its own national sales arm in China.
According to Glaab, the carmaker "will have exciting news to come in the not-distant future" about its new sales organization.
Before taking the position at Jaguar in May, Glaab worked for BMW for 11 years and was in charge of the Mini brand in China between 2005 and 2008.
With a degree in business administration and previous working experience for Mini - also brand with a proud lineage and distinguishing attributes - Glaab knows customer awareness is crucial for sustainable development in China.
Related readings:


 Jaguar looks for better traction


 Tata turns to profit on Jaguar


 Jaguar: Continued market growth, increased share


 Jaguar Land Rover recalls 'Discovery 3' SUVs

Glaab said the company has spent extensively on marketing Jaguar's heritage and pedigree, which is "second to none in the automotive industry". He believes it's a good time to bring the message to more Chinese customers as the iconic brand marks its 75th anniversary this year.
The company held a "Gorgeous Award" earlier this year to promote the brand and its association with successful celebrities and quality lifestyle.
On offer in China
It also brought the first Jaguar SS100 to the Beijing auto show in an effort to impress the audience.
Recently it conducted a test drive of its powerful R models in southern city Zhuhai to let more people experience the "fast and beautiful" cars.
Jaguar's product portfolio in China now includes its XF and XJ executive cars as well as the high-performance range of XFR and XKR.
The XF, with its lower relative price that starts at around 600,000 yuan, accounts for 80 percent of Jaguar's China sales.
The new XJ, Jaguar's flagship full-size saloon, went on sale in China earlier this year. Glaab said that the car is a compelling offer in its segment and will make inroads in the market.
When asked about the possible local production, the subject of industry-wide speculation, Glaab again said evaluation of potential Jaguar and Land Rover production in China is "at an early stage of evaluation".
Jaguar currently has no overseas production, with all its components designed and built in the UK, which is also part of its proud heritage, said Glaab.