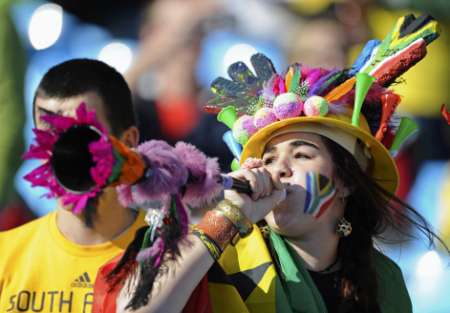 A soccer fan blows the vuvuzela as she waits for the start of the 2010 World Cup Group D soccer match between Serbia and Ghana at Loftus Versfeld stadium in Pretoria June 13, 2010. [Agencies]
BEIJING: Vuvuzelas have become one of the best-sellers on China's biggest online shopping platform, Taobao.com.
When Chinese merchants make money out of the trumpet, some Chinese citizens begin to complain about the noises it creates.
Related readings:


 China makes 90% of World Cup vuvuzelas


 BBBBzzzz! Noisy iVuvuzela latest app 


 'Vuvuzela' resellers eye World Cup gold in Europe


 Wave on the wane as fans opt to blow the vuvuzela


 World Cup horn risks permanent damage to hearing: study 
Many shop owners choose to sell vuvuzelas at Taobao.com. A shop owner from Shantou of south China's Guangdong province, where the horns are made, sells an alarming 2,333 pieces in the past 30 days.
A shop owner purchased more than 1,000 pieces Saturday and tried to sell them at Taobao. Untill now, he has sold more than 80 pieces, which is "far beyong his expectations".
One of his buyers who bought 20 pieces at a time said that he wanted to attract soccer fans to his pub with vuvuzela supplied for them, Beijing Morning News reported on Thursday.
The manufactring cost of each vuvuzela is reported to be between 0.65 yuan to 2.5 yuan (about 10 cents to 36 cents), but is mostly sold at more than 10 yuan on Taobao. Still it attracts lots of soccer fans as a must-have item for them.
"It is really hard to blow a vuvuzela, but some enthusiastic fans keeps blowing it until losing their voice," an online shop owner was quoted as saying by Xinmin Evening News on Tuesday.
In Chinese cyberspace, vuvuzela arouses heated discussions. Some fans even suggested that vuvuzela should be one of the must-have items for spectators of the Chinese Super League, the new season of which is to kick off in mid July.
But not every one loves the "magic horn" which produces over 100 decibels of noise each.
"I was awakened at 3:00 in the morning by huge noises from the neighborhood. Then I found some people blowing vuvuzelas long and loud, as Brazil has just scored one goal," a citizen Lin in Hangzhou, capital city of east China's Zhejiang province, was quoted Thursday as saying by local newspaper Qianjiang Evening News.
"I hate people blowing it at midnights," said Lin.