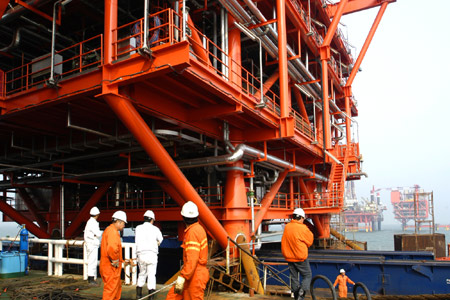 Cnooc has invested more than 15 billion yuan in building deep-water oil and gas exploration facilities. [China Daily]
New venture likely to consider investments in energy projects at home and abroad
BEIJING - China National Offshore Oil Corp (Cnooc) and global conglomerate General Electric Co (GE) are considering setting up a 3 billion yuan private equity (PE) fund, a source familiar with the matter said on Thursday.
Both companies will hold identical stakes of 50 percent each in the fund. The fund will be used for investments in several sectors including domestic and global energy projects, the source said on condition of anonymity.
Analysts said the move would boost Cnooc's asset management and investment capabilities. It also lends credence to the offshore oil explorer's efforts to develop itself into an integrated energy company.
China's two leading oil companies, PetroChina and Sinopec, have already got strong financial businesses. Hence it is only natural for Cnooc also to consider a financial sector extension, said Liu Gu, an analyst with Guotai Jun'an Securities in Shenzhen.
Cooperation with GE would help Cnooc improve its risk management capabilities, said Lin Boqiang, a professor at Xiamen University.
"Cnooc will benefit from GE's professionalism and rich experience in managing assets," he said.
Analysts said Cnooc would gain from GE's strong global network and have better access to overseas investment opportunities.
Cnooc President Fu Chengyu told reporters earlier that the company was in talks with potential partners for investment opportunities, but said it would opt for a cautious approach as it also needs to ensure good returns for investors.
The company had recently clinched a deal with Argentina-based Bridas Energy Holdings (BEH). As part of the $3.1 billion deal, Cnooc acquired a 50 percent stake in Bridas Corporation, a wholly owned subsidiary of BEH before the deal.
Bridas Corporation, with oil and gas exploration and production operations in Argentina, Bolivia and Chile, is now a 50-50 joint venture between Cnooc and BEH.
Like Cnooc, other domestic oil companies have all accelerated their overseas expansion in recent years. Some analysts said the government should consider setting up a fund to support domestic oil companies in their foreign merger and acquisition endeavors.
Related readings:


 CNOOC to focus on deep-water resources exploitation, new energy


 CNOOC buys 50% of Bridas Energy subsidiary


 CNOOC to buy stake in South China Sea oil field for $515m


 CNOOC Ltd says oil, gas output up 31.9% in Q1
An oil and gas development fund will also provide greater energy security and help China's sustainable economic development, as it becomes increasingly dependent on external resources, said analysts. With such a fund, companies will be able to benefit from low-interest loans and, in some cases, direct capital injections.
Cnooc will also step up deepwater exploration of oil and gas resources, while developing clean and low-carbon energies, Fu said recently.
The company aims to transform its economic development mode via technological innovation. Its exploitation of offshore oil resources will shift from shallow waters to waters as deep as 3,000 meters, he said.
Cnooc has invested more than 15 billion yuan in building deep-water drilling vessels, deep-water lifting and pipe-laying barges and geographical survey vessels, Fu said. The investments are expected to bear fruit in 2011.