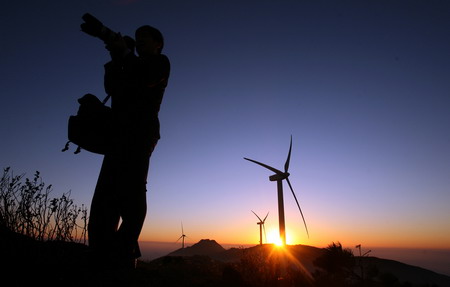 A photographer taking pictures at Jiugongshan wind farm in Hubei province. China's wind power capacity has seen an annual growth of over 100 percent in the past three years. [Gong Yue / for China Daily] 
BEIJING - China will take radical measures to increase the use of new energy in the 12th Five Year Plan (2011-15), a move that reinforces the nation's commitment to improve the energy mix and reduce pollution.
Development of new energies, including nuclear, hydro, wind and solar will be highlighted in the country's 12th Five Year Plan for the energy industry, said industry sources. The four sectors are also the most developed new energy resources in the country at present.
China is also drafting a stimulus plan for its new energy sectors, and it is likely to be announced within the next year, said sources.
Earlier media reports said the new energy plan would involve total investments running into several trillions of yuan.
Zhou Xi'an, an executive with the National Energy Administration (NEA), told reporters earlier that development of nuclear energy, wind energy, solar energy and biomass energy, as well as clean coal technologies would account for an integral part of the country's 12th Five Year Plan for the energy industry.
Related readings:


 'New energy' forum begins April 28 in Qingdao


 CNPC hastens new energy development


 New energy for development


 Chinese company to develop new energy in northeast

China has already set a target to increase the use of non-fossil energy to 15 percent of primary energy consumption in 2020. "With such a target in mind, China should take steps to increase the figure to around 13 percent by the end of 2015," said Li Junfeng, deputy director-general of the Energy Research Institute (ERI) under the National Development and Reform Commission (NDRC).
Echoing Li's view, Wang Zhongying, a researcher with ERI, said development of new energy is integral for China to achieve its emission control targets.
According to a recent report by World Bank, China needs an additional investment of $64 billion annually over the next two decades to implement an "energy-smart" growth strategy.
Such investment should be aimed at making the power and transport sectors more efficient and developing renewable energy, said the bank.
Many new energy sectors in China have seen tremendous growth in recent years. For instance, wind power has seen growth rates in excess of 100 percent in the last three years.
In line with the rapid growth in the industries, China has also adjusted the blueprint for some other sectors. For instance, the country made a plan in 2005 to increase its nuclear power capacity to 40 gigawatts (gW) in 2020, when it would account for 4 percent of the country's total power capacity.
But in line with the quick growth of the industry, the target has been raised to between 70 gW to 80 gW, according to officials with both the NEA and NDRC.
China has 11 nuclear power reactors under operation at present. These reactors have a total capacity of 9.1 gW and account for around 1 percent of the nation's total power capacity.
However, some analysts said it will be a long time before the new energies actually emerge as alternatives to coal and oil. "Coal and oil will still remain the mainstream energy in the country," said Lin Boqiang, a professor at Xiamen University.