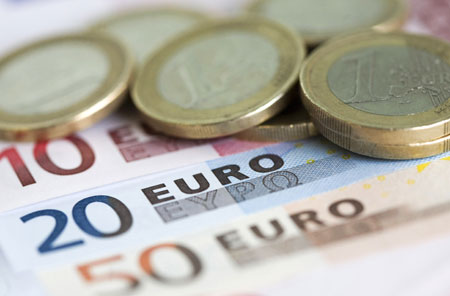 European currency could slump to its lowest this year versus the greenback
SYDNEY - The euro may slump toward the lowest this year versus the dollar and underperform Asian currencies as reduced spending in debt-ridden nations damp the region's growth, State Street Global Advisors said.
Economists now expect the European Central Bank won't start raising interest rates till next year as countries including Greece, Portugal and Spain struggle to curb their sovereign debt. In contrast, the Federal Reserve may lift its benchmark rate as early as November, while policy makers in India and Malaysia started withdrawing monetary stimulus this year.
"This year, the market will focus on the different growth rates between Europe and the rest of the world, particularly North America and Asia, and that will weigh on the euro," said Chris Loong, head of currency management and asset allocation in Sydney at State Street. "Austerity packages and commitments by Greece and other European nations to tighten their belts could mean lower growth prospects."
The euro has fallen 6.3 percent this year and traded at $1.3422 as of 12:43 pm in Tokyo. Loong said the currency may revisit this year's low of $1.3268 on March 25, which was the least since May 2009.
The currency will trade at $1.35 by June before sliding to $1.32 by year-end, according to the median forecast of 42 institutions surveyed by Bloomberg News.
Europe's common currency has weakened against all of its major counterparts this year on mounting concern Greece will struggle to fund Europe's biggest budget deficit.
A Bloomberg News survey of economists in March showed they don't expect the ECB to raise interest rates until the first quarter of 2011. A survey in February predicted the move would come in the final three months of 2010.
Prime Minister George Papandreou has raised taxes, and cut wages and spending to make good on a pledge to trim the shortfall - 12.9 percent of gross domestic product in 2009 - by 4 percentage points of output this year, a reduction of almost 10 billion euros. His efforts have yet to convince investors as Greece's borrowing costs have surged to the highest in more than a decade.
The more Greece's austerity measures succeed in driving down borrowing costs, said Loong, "the less positive that is for the currency, to the extent that the disciplines imposed restrict short-term growth prospects".
The International Monetary Fund cautioned on Tuesday that rising government debt has replaced financial industry stress as the biggest threat to the global economy. Concerns are rising for the sovereign debt of developed nations that bailed out banks, the IMF said in a report.
"Greece is a wake-up call," Jose Vinals, director of the IMF's monetary and capital markets department, said in Washington. Greece, Portugal and "to a lesser extent" Spain and Italy became the "main contributors to inter-sovereign risk transfer", according to the report.
Related readings:


 Euro governments offer Greece 30b-euro backstop


 Euro zone growth stalls in Q4 2009


 Euro zone agrees bailout for Greece

 Euro drops on EU's vague pledge to help Greece
"Asian economies are much better placed to grow, partly because they never had the same aggressive downturn and now don't have a fiscal overhang," said Loong. "There's definitely the opportunity for the currencies of most Asian economies to appreciate relative to Europe."
Malaysia's ringgit has led gains among Asian currencies against the euro, rising 15 percent this year, followed by the South Korean won and Indian Rupee.
The Australian dollar may also climb toward its record high against the greenback over the next six months from the possible move to a "tightening bias" by its central bank, Loong said.
Reserve Bank Governor Glenn Stevens has led the world in raising borrowing costs, after boosting the overnight cash rate target this month by a quarter percentage point to 4.25 percent, the fifth move in six meetings.
Bloomberg News