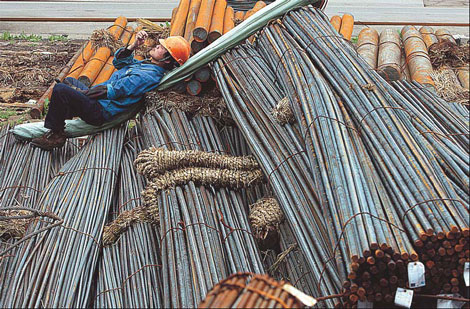 A worker relaxes after unloading steel pipes at a mill in Nanjing. [Provided to China Daily] 
BEIJING - Chinese steel mills should focus more on diversifying their mining resources to thwart the monopoly of the three global miners on iron ore supplies as the boycott call sought by the steel association may not fetch dividends, industry experts said on Monday.
The China Iron and Steel Association (CISA) has asked domestic steel companies and traders with import licenses to stop buying iron ore for the next two months from Vale, BHP and Rio Tinto to protest the price monopoly, said Securities Times quoting CISA Secretary-General Shan Shanghua.
The association held a meeting with China Chamber of Commerce for Metals and Chemicals Imports and Exports on Friday to discuss the regulation of the iron ore import market.
The current iron ore inventories of around 75 million tons are more than enough for the mills to undertake normal output over the next two months, Shang said.
The steel association has also called for revoking the import licenses of trading companies that imported less than 1 million tons of iron ore last year.
But the clarion call has not found much favor and steel mills seemed to have a divided front on the issue.
"CISA sounds like a lobby representing Chinese steel mills. However, it does not run the business, and hence it has no idea of the real needs of the steel mills," said a sales manager from a Hebei-based steelmaker, on condition of anonymity.
"If we don't purchase iron ore for two months, it will have a negative impact on our output. We will talk with miners privately to secure ore supplies," he said.
Industry analysts said if domestic steel mills stop imports for two months, the surging resultant demand may jack up prices further.
CISA's statement came about after BHP and Vale said they had signed short-term deals with their customers and abandoned the annual benchmark pricing system for iron ore.
BHP said in a statement last week that it had signed agreements with Asian steel mills for short-term deals based on market pricing.
Vale SA, the world's largest iron ore producer, said it agreed with 97 percent of its global clients to opt for quarterly price adjustments for ore shipments.
Li Xinchuang, president of China Metallurgical Industry Planning & Research Institute, said that the country should enhance exploration of domestic iron ore mines and increase investments in overseas mining resources to have a bigger say in the pricing negotiations.
"On the other hand the situation can be quite different if China controls 50 percent of the global iron ore imports," he said.