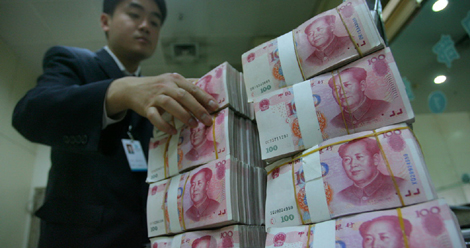 An employee counts bank notes at a China Minsheng Banking Corp branch in Nanjing, Jiangsu province. [China Daily] 
Traders increase bets as currency appreciation speculation mounts
SHANGHAI: Yuan forwards strengthened the most in a week on growing speculation China will allow the currency to appreciate to help tame inflation and because of general weakness in the dollar.
Traders have increased bets on how far the yuan will rise in a year since Fan Gang, an adviser to the central bank, wrote in the Melbourne-based Age newspaper on Friday that China may resume a "managed float" of the currency. The Dollar Index, which tracks the greenback against those of six major trading partners, dropped 0.2 percent, a second day of losses.
Related readings:


 Toying with yuan won't help US


 China, Belarus agree to begin yuan or ruble settlement


 US may tread softly on key currency issue

 Yuan revaluation talk heats up 
"It's unavoidable that China will move the currency to contain inflation," said Liu Xin, an analyst at the Hong Kong branch of Bank of Communications Ltd, China's fifth-biggest lender. "The broad dollar weakness also boosts demand for the Chinese currency in the Non-Delivery Forward (NDF) market."
Twelve-month non-deliverable yuan forwards climbed 0.1 percent to 6.6681 per dollar as of 12:23 pm in Hong Kong, reflecting bets the currency will strengthen 2.4 percent from the spot rate of 6.8267, according to data compiled by Bloomberg. The contracts are little changed so far this year, after posting gains in every quarter of 2009.
US lawmakers have stepped up pressure on China to revalue the currency since Premier Wen Jiabao on March 14 rebuffed international calls for appreciation, saying the yuan isn't undervalued. The currency was allowed to strengthen 21 percent in three years before the central bank adopted a de facto peg against the dollar in July 2008 to help Chinese exporters survive a global recession.
Inflation outlook
"If Washington could be a bit quieter, there is a good chance China would move the currency because their biggest problem is trying to keep inflation under control," Jim O'Neill, chief global economist for Goldman Sachs Group Inc, said on Friday. "But it doesn't help with Washington just shouting all the time."
Government bonds declined on Monday on concern inflation will quicken, eroding the value of fixed-income securities.
Consumer prices rose 2.7 percent from a year earlier in February, the biggest increase in 16 months, and the government aims to keep the inflation rate below 3 percent this year. The rate may average as much as 3 percent in the coming quarter, up from about 2 percent in the first three months of the year, according to Hu Hangyu, a Beijing-based bond analyst at Citic Securities Co, China's biggest listed brokerage.
"People's expectation for mildly rising inflation have driven up bond yields slowly," Hu said.
The yield on the 3.48 percent bond due in July 2019 rose six basis points to 3.46 percent, and the price of the security slid 0.48 per 100 yuan face amount in the period to 100.16, according to the National Interbank Funding Center. The yield has dropped 17 basis points this year. A basis point is 0.01 percentage point.