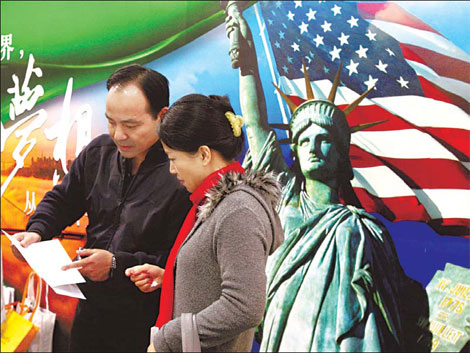 Two Beijingers study a New York travel offering at a travel agency office in Beijing. The latest outbound tourism report by the China Tourism Academy said China will the fourth largest source of outbound tourism in the world by 2020. [Provided to China Daily] 
China Tourism Academy estimates as many as 54 million tourists will go abroad this year, up from 47 million in 2009, reports Yu Tianyu from Beijing.
Zhu Mingxia, a 66-year-old Beijing resident, proudly shows off her passport with tourist visas for 13 countries.
She is busy planning another trip soon with her 67-year-old husband but is torn between Melbourne and London.
"My grandson is studying economics in Melbourne. We miss him so much and want to see him," Zhu said. "But, I also would love to visit the British Museum because I read an interesting article about it in middle school more than 50 years ago."
Related readings:


 Tourism to propel growth


 China to be world's top tourist destination by 2015


 China to boost cultural tourism


 Scenic sites form association to promote tourism
Zhu, a former college professor, and her husband traveled to 13 foreign countries, including South Africa and Burma, within five years of their retirement.
"We have become experienced travelers and never joined any tour groups because we wish to freely plan our routes, activities and accommodation and at the same time get to know local people and their culture," she said.
Ahead of their trips, Zhu and her husband always do a lot of homework on local traditions, must-go places and the general culture. Zhu said that she booked hotels and regional train tickets online and read many pieces written by other travelers.
She said: "Although we only speak a few words of English, it is still not a big problem because many overseas countries have started to provide services in Chinese and there are also many helpful people who are able to speak fluent Chinese."
Zhu is just one of many Chinese travel enthusiasts who decided to explore the world as the Chinese economy boomed and overseas travel became less of a luxury limited to the privileged few.
The Annual Report of China Outbound Tourism Development 2009-2010, recently released by the China Tourism Academy (CTA), estimated that 54 million travelers would go abroad this year, up from 47 million in 2009.
Jiang Yiyi, director of the academy's international tourism development institute, said that the outbound travel market for the Chinese mainland would remain brisk this year, continuing to contribute to the recovery of the world economy and helping to offset China's trade surplus.
According to the United Nations World Tourism Organization, China will be the world's fourth-largest source of outbound tourists by 2020, with 100 million overseas visits.
Spotting the huge market potential, many countries have striven to lure more free-spending Chinese tourists, especially amid the global economic recovery.
Gregory Hywood, chief executive of Tourism Victoria, Australia, told China Business Weekly in an exclusive interview that 163,000 Chinese tourists visited Victoria in 2009, accounting for a half of the total Chinese tourists who traveled to Australia. He added the total length of stay soared by 48.2 percent year-on-year to 6.3 million nights.
Hywood said his organization had worked out a 10-year plan for the Chinese market and it also expects a 70 percent increase in the number of tourists to Victoria this year, with Chinese visitors accounting for 70 percent of the rise.
"With an investment of A$1.4 billion ($951.6 million), the Melbourne Convention and Exhibition Center has received many groups of Chinese visitors in recent years," he said. "We will put great efforts into the meeting, incentive, conference and exhibition (MICE) business because more Chinese enterprises have started putting emphasis on rewarding and encouraging their staff."
Additionally, events and activities, including the Australian Open, F1 Championship and Melbourne Film Festival, will attract many Chinese tourists, especially young people, he said.
The India tourism industry has launched its 'Incredible India' campaign with dances and cultural events all over China projecting southern Asian nation as a top travel destination in an effort to woo Chinese tourists.
Shoeb Samad, director of India Tourism in Beijing has said that the number of Chinese tourists arriving in India increased from 21,152 in 2003 to 98,724 in 2008. He said India was a natural destination for Chinese travelers looking for a spiritually gratifying experience.
Sri Lanka is also looking towards China to boost its sinking tourism industry. Hit by the financial crisis, Sri Lanka received only 9,000 Chinese tourists in 2009, but the number is steadily rising.
The Sri Lankan Tourism Bureau set up an office in Beijing in 2008, while Sri Lankan Airlines also offered a number of tour packages to the Chinese market. There are three direct flights from Beijing to the capital, Colombo, every week with Chinese attendants on board.
Many emerging travel destinations are opening up their arms to welcome Chinese tourists.
The first Chinese tour group of 200 tourists is due to visit the Democratic People's Republic of Korea on April 12, said a statement from the National Tourism Administration of China. Chinese tourists have been able to travel to Lebanon since March 1.
A report by AC Nielson showed that Asian countries were the top choice for Chinese tourists with more than 60 percent of respondents favoring the destination. The region's popularity was followed by Europe and Oceania.
According to statistics from travel search engine Qunar.com, top destinations for travelers departing from Beijing were Hong Kong, Tokyo, Seoul, Singapore, Bangkok, New York, Paris, Kuala Lumpur, London and Sydney.
Ma Nan, marketing manager of Beijing UTS International Travel Service Co Ltd, said his company was expecting a 20 percent rise this year in tourists visiting South Africa, Egypt, Japan, the US and island countries in Southeast Asia, despite a possible 5 percent year-on-year rise in prices.
Ma also said that Chinese tourists have gradually got more sophisticated. Far fewer now travel long journeys by bus, snap a photograph at an attraction then leave straight away.