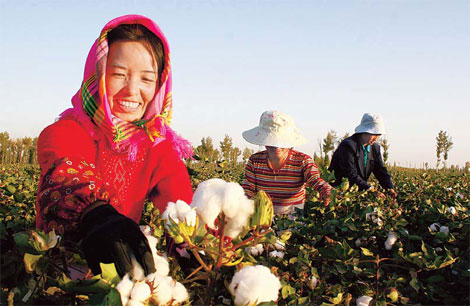 Migrant workers from Qinghai province pick cotton in a field in Hami, in neighboring Northwest China's Xinjiang Uygur autonomous region. Xinjiang is the country's biggest cotton producing center. [China Daily]
New economic zones to be built to enrich poorer Chinese regions
BEIJING: The cities of Chengdu and Chongqing are famous for their different kinds of hot pots and there are endless arguments about which one is more delicious or spicier. It will only take 56 minutes by train for people from Chengdu to eat hot pot in Chongqing when the high-speed railway linking the two cities is completed in a few years. Construction is slated to start this year.
The "one hour circle" is part of the plan for the Chengdu-Chongqing Economic Zone, and the overall development project will be approved by the central government this year, according to this year's sessions of the National People's Congress and the Chinese People's Political Consultative Conference. The two cities will generate more synergies in the future.
Related readings:


 High-speed rail to link Chengdu and Chongqing


 Push to spur education in west China


 Vice-Premier urges more efforts to develop west China 


 New economic belt to boost W China
The State Council, China's cabinet, has sparked a new wave of regional development by laying out a dozen regional development plans with policy or financial support since last year.
The Yangtze River Delta and the Pearl River Delta have acted as leading engines in the development of China's prosperous coastal areas. China is keen on fostering more driving forces to boost central and western regions to catch up.
In January, the Wanjiang River Urban Belt in Anhui province was positioned as a national-level industrial transfer demonstration zone, and Hainan province was targeted to be transformed into an international tourist destination last December.
Other western regions such as the Xinjiang Uygur autonomous region and Tibet autonomous region have also become recent hot subjects for investment. Similarly, development plans for the two regions are being formulated and are very likely to be released this year or next.
Different strategies
"Development strategies for different regions must be strongly differentiated by making full play of regional comparative advantages while avoiding the high environmental cost that coastal regions paid in their high-growth period," said Pu Yufei, a researcher at the State Information Center under the National Development and Reform commission.
Take Xinjiang for example. The autonomous region is well known for its "one black one white and one red" industrial chain, which refers to its oil, cotton and tomato industries respectively. Xinjiang is the largest natural gas-producing region in China and plays an key role in transporting the natural gas from west to east.
Xinjiang will use its advantageous energy resources and distinctive agriculture as its main strengths in this round of regional development, said Nur Bekri, chairman of the regional government during the two sessions.
Meanwhile, the government is accelerating the relocation of low-end industries from coastal regions to inland areas. It's also a natural option for both foreign and domestic manufacturing companies as the labor and property costs soar quickly in first tier eastern cities.
Hewlett-Packard has built a manufacturing base to assemble 40 million laptops annually in Chongqing and the planned production capacity is likely to reach 80 million units. Similarly, Intel moved its manufacturing and testing plants from Shanghai to Chengdu last year.
The government has designated a city cluster in the Wanjiang River Urban Belt of Anhui province to accept new industrial transfers. Equipment manufacturing, raw material industry, textile, high technologies, modern services and modern agriculture have been underlined as six pillar industries.
The eastern areas will gradually transfer its labor-intensive manufacturing industries to inland areas thus freeing space to develop high-end industries and services, said analysts.
Industrial transfer won't cause a vacuum in the economy for eastern cities such as Shenzhen because the empty areas will be quickly filled with other hot investment businesses such as the financial industry.